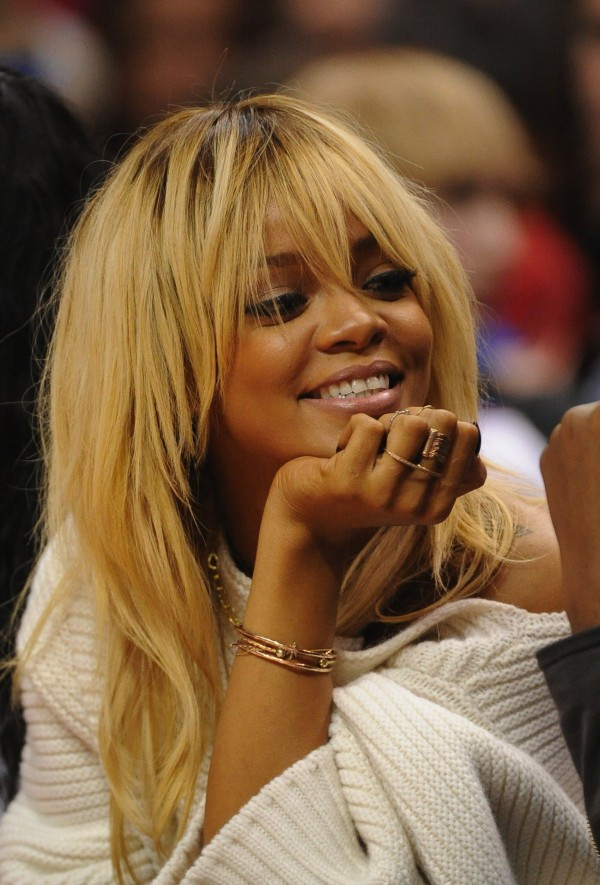 Rihanna was in high spirits as she performed at Hyde Park on the final night of the Barclaycard Wireless Festival 2012. There were rumours that she might pull out of the event after the death of her grandmother, GranGran Dolly, but she made it.
The Barbadian singer wore a midriff-baring studded top and peacock-patterned billowing sleeve with lacy pants over stockings. She styled it with a black leather cap with a python embellishment and black boots. The 24-year-old entertained London fans by opening with a medley of Only Girl (In The World), Disturbia and S&M and gave a mesmerising end with her global hit We Found Love. The Egyptian themed set played host to her live band and the troupe of dancers made the show more vibrant.
Earlier this month Rihana was criticised for miming and appearing drunk or high on stage at the annual Peace & Love Festival in Sweden. It was later revealed that the performance took place on the day her grandmother died. Rihanna had been updating her fans about her emotions during the trying time through Twitter, by sharing personal photographs of the two of them.
Rumours regarding rekindling of the relationship between singer Chris Brown and Rihanna have gained momentum after the former came to the support of the Caribbean-born singer with condolences, following the death of her grandmother. The 23-year-old Turn Up the Music singer took to Twitter to express himself.
Even more, a source close to Brown told HollywoodLife.com that Rihanna messaged him before his big night at the 2012 BET Awards.
"Rihanna sent him a text saying 'Im thinkin about ya; good luck tonight," the source was quoted as telling the entertainment site. In an earlier IBTimes UK report, the couple was reported as exchanging romantic messages.
However, the Talk that Talk singer showed her professional side by turning up to perform at Wireless on Sunday and gave the best show.
Other big performances of the night included Jessie J, Cher Lloyd, Labrinth, Rizzle Kicks, Kaskade and Pitbull. Many celebrities also attended the event including Rosie Huntington-Whiteley and Jason Statham. The three-day event in London saw 65,000 revellers enjoy performances including those of Nicki Minaj, Professor Green and Tulisa.