Ten men who were found guilty of a series of sex offences including abusing a "extremely vulnerable" teenage girl with learning difficulties have been jailed for more than 125 years. The men were given jail terms between five-and-a-half and 25 years after being found guilty of offences such as rape and sexual assault against their victims aged between 13 and 22.
The vulnerable teenager, who was abused by all the defendants when she was aged between 14 and 18, came forward to say that she had been repeatedly raped by gangs of men in Rochdale. Following widespread media coverage a paedophile gang in the Greater Manchester town were jailed for a total of 77 years in 2012.
The victim told police that the abuse began when she was around 14 or 15 and her phone number had been passed on to "hundreds" of men who would constantly ring her for sex. Seven other complainants, who were aged 13 to 22 at the time, also came forward to testify they had been abused by the men.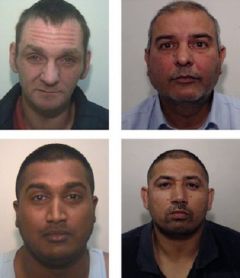 Nine of the men have now been sentenced to between five and 25 years at Minshull Street Crown Court . A 10<sup>th man, Mahfuz Rahman, 29, pleaded guilty at an earlier hearing to three counts of sexual activity with a child and was sentenced to five-and-a-half years in September 2015.
Choudhry Ikhalaq Hussain, 38, formerly of Mayfield Terrace, Rochdale, was sentenced in his absence to 19 years for rape, sexual activity with a child and conspiracy to rape. He is believed to be currently in Pakistan after he left the country during his trial.
Deputy Police and Crime Commissioner Jim Battle said: "This is a high-profile reminder that those who sexually abuse children will be found, tried and imprisoned. This conviction is as a result of hard work by the police, prosecutors, the council and, most importantly of all, the public. It shows that we are all working together to protect our young people and ensure the abusers end up where they belong – behind bars.
"And I would urge any victims of abuse – whether it happened recently or in the past – to come forward to the police. The same goes for anyone who is worried that someone they know is being groomed or abused."
Alison Cartmell, Senior Crown Prosecutor from CPS North West Complex Casework Unit added: "The offenders targeted their victims because of their age and the vulnerable situations they were in at the time. They pretended to be their friends and, in some cases, their boyfriends, but in fact they set out to groom them and exploit them for their own ends. Some of the men plied their victims with large amounts of alcohol or drugs as a way of controlling or even incapacitating them. Some used violence and threats to intimidate and coerce them into having sex.
"I hope that today's outcome will act as a warning to those who abuse and exploit children in this way that tackling these crimes remains a priority for police and prosecutors and I hope it provides other victims of sexual abuse with the confidence to contact the police and to seek support."
Full sentencing: