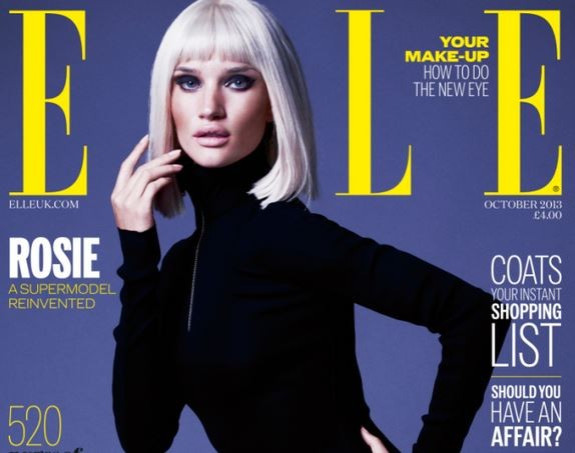 Rosie Huntington-Whiteley is the latest to star the cover of Elle UK.
The Victoria Secrets model is seen in a black Miu Miu dress and donning a platinum-blonde bobbed wig. In the shots captured by Mariano Vivanco, she also wears a selection of pieces by Calvin Klein Collection, Céline and Chanel.
Huntington-Whiteley talked about her relationship with actor Jason Statham to the magazine's Editor-in-chief, Lorraine Candy: "Many models are in long-term relationships for stability. Admittedly, not always with great men, but it gives them something to come home to, something grounding. That's how I see my relationship. Well, I see it in many ways but one of the most beautiful things is that I feel at home whenever I am in the world because of him."
The 26-year-old British model recalled the struggling days in her career.
"I can see why people think models come across as a little cold," she added, "When you start out you¹re so young you don¹t have a voice. Every just tells you what to do and you can end up abroad in the middle of nowhere, with no one speaking English. It is very lonely. ....You develop a thick skin to protect yourself. Now I am 26, when I come on a set, I can say what I think and my opinions are noted. I¹ve grafted hard to be here."
This is Huntington-Whiteley's third time as Elle's cover star. She also appeared on the magazine's September 2012 and July 2011 cover.