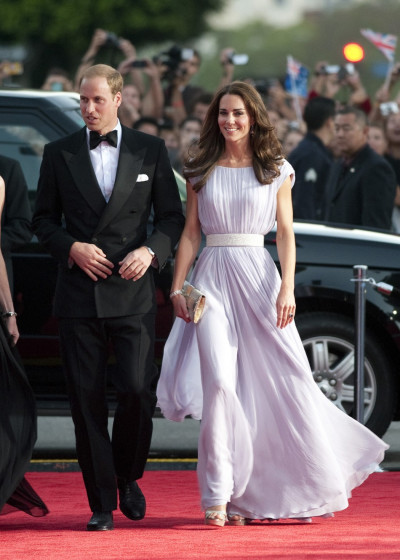 The royal couple have boarded an overnight flight back to London as their visit to Canada followed by two days in California came to an end.
Minutes before taking off, the newlyweds posed briefly on the steps of the aircraft and were still smiling despite a gruelling and exhausting schedule.
Kate and Will dazzled as they arrived at the Hollywood Bafta dinner this week end , having previously witnessed a less flashy side of Los Angeles as they visited a project for children living in poverty and a jobs fair for combat veterans.
Tinseltown's biggest stars turned up to the event as Barbra Streisand, Nicole Kidman, Jennifer Lopez, Tom Hanks and Jack Black were among those who battled for the royal couple's attention.
Kate told guests at the party, designed to launch the careers of 42 BAFTA "Brits to watch", that she was "excited about being in America, while Juno actor Jason Bateman summed up the mood of the 300 guests, saying: "William and Kate are the ultimate movie stars. We are all faking it and getting paid for it. They're the real deal."
The Duchess of Cambridge wore a floor-length Alexander McQueen pleated silk gown, with diamond earrings borrowed from the Queen.
The couple took their seats on a table opposite Streisand, who made the first move to say hello while a gushing Kidman told reporters: "They make me smile, I love them. They're lovely", before adding "I was just on the phone to my mum who said, 'It's so good you're going', because we're Australian."
TV host Piers Morgan said "They are the biggest stars in the world, there's no question. They've come to Hollywood and are kicking ass."
He added of the duchess: "I think Kate is completely natural at this sort of thing.
"I'm sure she's been coached, but you can be coached a million times and still be hopeless."
The royals and guests including studio bosses, actors, designers, writers, directors and producers, sat down to a British-themed dinner at the bash, held at LA's Belasco Theatre, and in a speech to guests, William said "I should like to thank Colin Firth for my perfect opening line - 'I have a voice'."
He added: "As president of BAFTA, I am proud of the success Brits have had in the world of film, television and video games.
"When American and British creative talent gets together, magic happens."