The revelation that Donald Trump has a head of communications was quite the surprise. Someone was in charge of all this? Really?
So the news that Michael Dubke has quit the role as the President's mouthpiece, presumably because the man himself was using a different orifice, is less of a shock than the fact that he was there in the first place.
Perhaps, for Dubke, it was the strain of trailing Trump in his expert parody of National Lampoon's European Vacation where, for all the hand-wrestling with Macron, the discovery of Pope-resting face and the mysterious glowing Saudi orb, the American voter remained resolutely undistracted and wholly focussed on matters rather closer to home. And, this week, on one matter in particular.
Quite simply, Russia looms over the Trump presidency like a Death Star.
Take your pick as to what the most damaging allegation might turn out to be. It could be the rumours were about whether Russia was involved in attempting to disrupt the electoral process (notably with the 'hacking' of Democrat party emails). Or the early removal of national security advisor Mike Flynn for being too chummy (and too secretive with it) with his Russian pals. Or the Attorney General, Jeff Sessions, was also found to have had more meetings with the Russian Ambassador than might be expected. As did Jared Kushner, (son-in-law and 'Secretary of Everything') with Sergey Kislyak, the Energy Secretary. Perhaps it was James Comey, FBI director, conveniently sacked by Trump while investigating the above. Or Trump himself being said to have revealed highly secret 'codeword' material to the Russian Foreign Minister and Ambassador (also thought to be the main spy in Washington).
To see how damaging all this is, the social media analysis company Impact Social looked at online posts discussing Trump and Russia on all the major social platforms, and on open news forums, between 16th and 30th May, in the state of Florida, with all the retweets and media taken out. They looked at Florida for a reason - this is the state which acts as an electoral bellwether and is the state where the social media data suggested a Trump victory back in the day when the polls were saying it would be Clinton.
So what Florida is saying is a big signal to how views are changing. And out of 96,000 posts in that period, 33% are negative about Trump's Russian dealings (only 14% positive), with 55% merely reporting news.
Compare that data to the numbers from Florida just ahead of the election, when Impact Social found that 54% of online conversations were backing Trump, and only 29% were behind Hillary Clinton. This new data is on a single topic, but it shows that the drip-drip of information, innuendo and occasional facts are dramatically pulling down support for the President.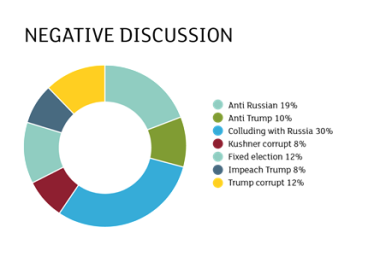 A full 30% of those negative posts accuse Trump directly of colluding with Russia, with 12% saying that they fixed the election, a similar number accusing him of corruption and another 8% asking for him to face impeachment.
The positive numbers, being smaller, don't offer much consolation. The vast majority of the support (84%) is based around the idea that there is 'no evidence'. After all, with the FBI and the media in full pursuit, there's always the danger that that might change.
Overall, these are bad numbers, it goes without saying. For generations, Russia have been the Bad Guys, both in Cold War reality and in Hollywood fantasy. So for US leaders to be suddenly seeming much too cosy with Russia is a significant loss of trust.
Some think Trump is too cosy for business reasons, others are arguing (with less obvious evidence) that he has laundered money over there. And, as always, there's a fair smattering of nasty conspiracy theories too, with the Seth Rich murder, and Sean Hannity enthusiastic musings, taking a lot of the share of the noise.
What will worry those around Trump even more is that they are also in the firing line and, as his team are being widely seen as complicit, the Presidency is becoming more than just an issue of an eccentric at the wheel - there are growing signs that voters are viewing the White House as one big scam.
The only one in Trump's inner circle who isn't dragged in, strangely, is the shiftiest of the lot, Steve Bannon, for whom being sidelined has turned out to be a blessing in disguise. The inner circle's Golden Boy Jared Kushner, on the other hand, is looking increasingly vulnerable, and would look at data like this with increasing nervousness. No-one looks good in a kleptocracy.
It's hard to see Trump's inner circle turning on him in the light of this decline. As outsiders to the Republican party, there's nowhere really they can turn. But the wider pressure on Trump continues to build, and with Trump's tendency to lash out at those who disappoint him, there's no-one who's really safe.
In a White House seemingly characterised by chaos and confusion, adding Russian-fuelled paranoia and a popularity that's falling off a cliff to a combustible mix is only going to lead to more paralysis and a failing leadership at the top of the most powerful country on earth. Whether this ends in impeachment, or a lower grade collapse in the authority of the President, is tricky to predict in this most anarchic of regimes.
In fact, there looks to be only one winner in the whole farce. It would seem that Vladimir Putin's chaos theory of foreign relations has triumphed like never before.
---
Jimmy Leach is a digital consultant, working on platforms and communications for governments, corporations and start-ups. Follow : @JimmyTLeach
---