Russia in Syria: Putin launches first air strikes in country on rebel-held Homs, targets remain disputed
Syrian opposition groups report Russia has carried out its first air strikes in the country, targeting rebel-held areas in north eastern Homs province. Videos shared on social media showed alleged Russian Su-24 and Su-25 aircraft flying over the area and the aftermath of the aerial bombings, with Syrian civil defence members trying to pull out victims from collapsed buildings. Other clips showed children hit by shrapnel and people bleeding at the local hospital.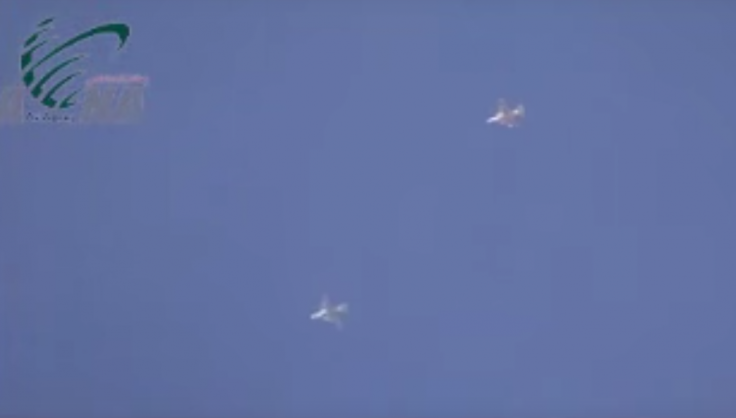 French TV channel TF1 had filmed Russian military jets, cargo planes and attack helicopters arriving at Latakia airport on 27 September. The Syrian opposition said the air strikes hit al-Lataminah, Zaafrana and Talbisah, areas held by the Western-backed Free Syrian Army, the al-Qaeda-linked al-Nusra front and other Islamist groups such as Jayish al-Islam. Opposition-linked groups posted the names of 15 people who were killed in the air strikes in Talbisah on Twitter.
Hama media posted videos and photos of purported Russian airstrikes in al-Lataminah:
Russian jets also reportedly hit a Syrian rebel group that was receiving US anti-tank missiles:
Other clips allegedly showed the Su-25s and Su-24s carrying out the bombings:
The alleged raid came after the Syrian presidency confirmed on Twitter that it had requested the Russian air force to launch air strikes in the country against 'terrorists'. Russia's upper house of parliament approved on 30 September the military to be deployed in Syria to target air strikes against Islamic State (Isis) in the country.
Senior Kremlin official Sergey Ivanov ruled out the use of ground troops and said the step involved only the use of air force. Satellite images from Syria have revealed a build-up of Russian air power at a new base outside Latakia. Russia's newest fighter bomber, the SU-34 or "Fullback", was reportedly flown into Latakia on 29 September.
UPDATE: A senior US official has told CNN that Russia conducted its first air strikes in Syria, near Homs. He confirmed that they were informed in advance about the military operation.
UPDATE 2:17PM
Russian state TV confirms that two Su-24 jets set off from Latakia base and bombed targets outside the city of Hama
© Copyright IBTimes 2023. All rights reserved.