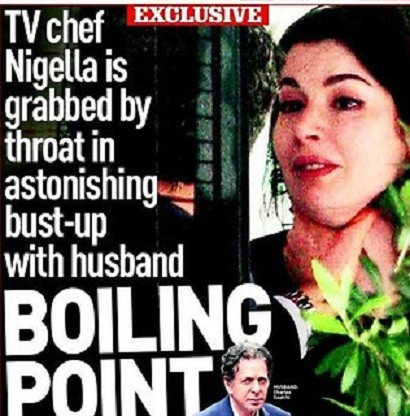 Pressure is mounting on Charles Saatchi over his assault of wife Nigella Lawson as powerful media and art world associates of the PR guru come under fire for supporting him.
The Evening Standard, where Saatchi is a star columnist, granted him his second interview in three days, in which he said he admitted his guilt to police as "it was better than the alternative of this hanging over all of us for months".
The art collector was cautioned for assaulting his wife after being interviewed for four hours by police. He had been photographed seizing his wife by the throat at a fashionable Mayfair restaurant.
Sky News was criticised after its presenter, Kay Burley, interviewed Saatchi's art world associate, gallery-owner Bernard Jacobson, who appeared to offer qualified support for his friend.
Jacobson said the multimillionaire was a man of "forceful personality" who was highly strung and "likes to get his own way".
The Guardian's Roy Greenslade has issued an apology for his blog on the story.
"I concede that I expressed myself very badly indeed," wrote Greenslade. "The reference to red faces did trivialise a serious matter. Mine is the red face, I assure you.
"I now accept that the pictures were graphic evidence of an assault."
In his initial piece, Greenslade wrote: "Many 'experts' were quick to make pronouncements about domestic violence", and asked: "Am I alone in thinking this may have been a rush to judgment?"
The Daily Telegraph's Christina Odone also attracted criticism after arguing that the couple's privacy should be respected.
"The tragedy is, if there had been no photos, no hysterical tweets the couple would have done what any married couple does after a bad row: sorted things their way. They might have seen a counsellor, or gone off on a holiday together or sat down to watch the telly into the night.
"But media attention, as the PR guru Saatchi knows better than anyone, can inflate anything. A quarrel where the husband jokingly puts his hands round his wife's throat and accidentally hurts her grows into a divorce-or-die situation."
Her comments attracted thousands of angry tweets. Among them was one from Guardian and New Stateman columnist Nicholas Lezard, which read: "Is Christina Odone's article saying leave Saatchi & Nigella alone the stupidest one ever written? Very possibly."
READ:
Nigella Lawson Choking Attack Should not be Played Down
Evening Standard in Turmoil: Questions over Boris Johnson, Saatchi and Sewell as 300 Jobs Merge
Nigella Lawson Choking 'Attack': Just a 'Playful Tiff' about our Children, Says Charles Saatchi
Nigella Lawson Leaves Marital Home After Images of Husband Choking Her Emerge (PHOTOS)