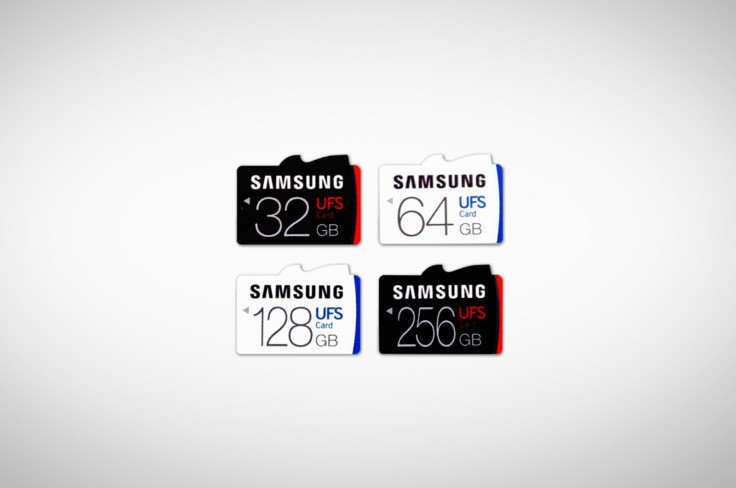 Move over, microSD: the age of Universal Flash Storage is here. Samsung has launched the world's first removable memory cards based on the Universal Flash Storage (UFS) format, offering up to 256GB storage and offering five times the read speeds of microSD.
The cards, which come in 32, 64, 128 and 256GB variants, are expected to edge out the humble microSD and offer speedier and more efficient storage solutions for our various content-laden devices, including smartphones, action cams, virtual reality devices and drones. According to Samsung, USF cards are able to read 530 MB/s – meaning it could read a 5GB, Full-HD movie in approximately 10 seconds, compared over 50 seconds on a typical microSD card.
Write speeds are also significantly higher, with rates of up to 180MB/s – approximately double the speed of a top-end microSD card.
"Our new 256GB UFS card will provide an ideal user experience for digitally-minded consumers and lead the industry in establishing the most competitive memory card solution," said Jung-bae Lee, senior vice president, Memory Product Planning & Application Engineering, Samsung Electronics.
"By launching our new high-capacity, high-performance UFS card line-up, we are changing the growth paradigm of the memory card market to prioritise performance and user convenience above all."
To achieve the highest performance and most power-efficient data transport, Samsung's UFS cards support multiple commands with command queuing features and allows for simultaneous reading and writing, thereby doubling throughput.
Samsung launched the industry's first 128GB embedded UFS chip in January 2015, before announcing its 256GB embedded UFS chip for high-end mobile devices in February 2016. Samsung has yet to provide details on when the format will appear in removable form, so keep hold of your microSD cards for now.