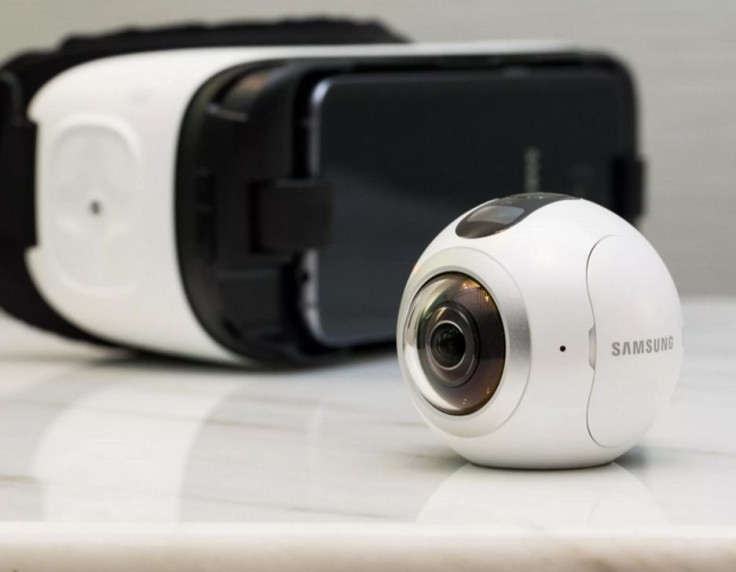 Samsung's 360-degree camera Gear 360 is now available for purchase in the US across major retailers such as AT&T, Best Buy, Sprint, US Cellular and Verizon stores. Starting at $349.99 (£285), the camera is also up for sale on the Samsung online store as well.
Unveiled at this year's Mobile World Congress event, the camera was originally rolled out to the US market on "a limited basis" in June. Not all consumers had access to the camera earlier as it was on sale on Vidcon in Anaheim only.
Samsung has now expanded the availability of the Gear 360, which supports an array of Galaxy devices that run Gear 360 Manager app such as the S7, S7 Edge, S6, S6 Edge, S6 Edge + and Note 5. Using the Galaxy phones, users can edit, stitch and share 360 content through 360-supported social networks or view it on Gear VR headsets. The camera is IP53 certified, which is for protection against dust and water – sprayed at any angle up to 60 degrees from vertical.
The Gear 360 is equipped with two 15MP fisheye lens camera sensors, with 360-degree video recording support at 30 frames per second (fps). It supports Wi-Fi and Bluetooth version 4.1 and microSD card for 200GB storage space. It is powered by a dual-core processor. There is a 1350mAh battery inside the camera, but the battery life may vary based on the configuration and device usage.
"The Gear 360 is a new frontier documenting life's memories, in the most immersive way possible today, and then sharing that via social, or directly into Virtual Reality," said Nick DiCarlo, vice president of Immersive Product Strategy at Samsung electronics America, in a statement.
"With the Gear 360, consumers will be able create their own immersive experiences and share them with their friends and family," he added.