The international variant of Samsung Galaxy S3 features a 1.4GHz quad-core processor and ships 1GB of RAM. The Korean giant is planning to launch a special variant of the new Galaxy smartphone in Korea featuring a 1.4GHz quad-core Exynos processor and 2GB of RAM, according to The Christian Post. According to reports, the model appears to merge the best specs of the two variants which are being released around the world.
The new Korean variant is likely to have a 4.8in Super AMOLED HD display with a resolution of 1280 x 720 pixels as well as the S Voice. Moreover, it is expected to arrive on Korea's SK Telecom in July, according to PhoneArena. The device is expected to have dimensions of 70.6 x 136.6 x 9.0mm and will weigh 136.5g. In addition, just like other variants, it will come packed with a Li-Ion 2100mAh battery.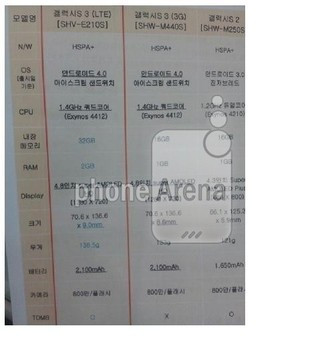 "We don't expect this to come to stateside, and possibly anywhere else except for Korea, but it's a hint of what to expect in the near future from high-end handsets," claims Phone Arena. However, there is no official announcement about its date of release.
The international variant of the Galaxy S3 comes with a super AMOLED display with a resolution of 1280 x 720 pixels at 306 pixel per inch (ppi) and is covered with a Corning Gorilla glass 2. It runs the TouchWiz 4.0 User Interface which offers visual improvements and gesture-based functionality. The device comes pre-installed with the latest Android 4.0.4 Ice Cream Sandwich (ICS).
The Galaxy S3 variant of Europe and Asia is powered by the quad-core Exynos chipset which was clocked at 1.4GHz processor. The US-bound Galaxy S3, on the other hand features the dual-core 1.5GHz Snapdragon S4 processor and 2GB of RAM.
The Pebble Blue model of the Galaxy S3 which was delayed is finally expected to arrive in the UK on 22 June.