Samsung will announce the Galaxy S4 at a media event held in New York on 14 March, the company has announced, tweeting details of the Unpacked event.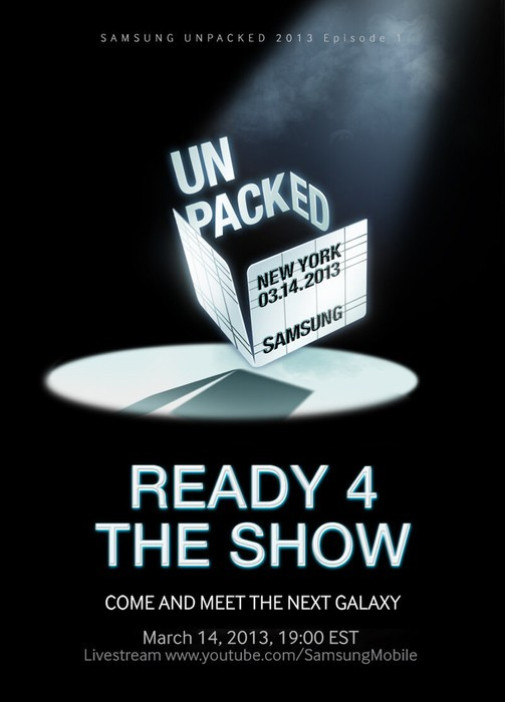 Tweeted by Samsung on the morning of 25 Februaury, as Mobile World Congress in Barcelona enters its second day, the event announcement reads: "Ready 4 the show," in a nod to this being the fourth generation of Samsung Galaxy S smartphone, followed by "Come and meet the next Galaxy".
Speaking to the Edaily news website, Samsung Electronics' mobile division chief JK Shin said: "We introduced the Galaxy S3 in London last year, and this time we changed the venue [to New York]...as we were bombarded with requests from US mobile carriers to unveil the Galaxy S4 in the country."
The event will be live streamed on YouTube from 7pm EST, which is midnight here in the UK.
The top of the invite says "Samsung Unpacked 2013 Episode 1," suggesting the company has a few more Unpacked events lined up for later in the year.
Very little is known about the Galaxy S4 - certainly less than we knew about the S3 less than a month before its launch - but rumours have suggested a 5in display with a full HD 1080p resolution. Such a screen would make the S4 just half an inch smaller than the enormous Galaxy Note 2.
As for power, a Samsung Exynos processor and a Qualcomm Snapdragin 600 chip set - as used by the HTC One - have been suggested.