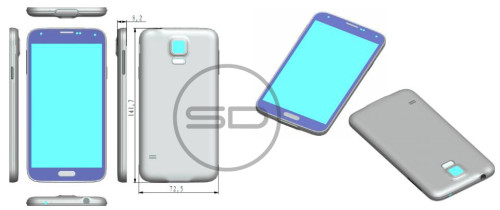 With less than two weeks to go until Samsung kicks off its press conference at Mobile World Congress in Barcelona, a render claiming to be of the upcoming Galaxy S5 gives away the smartphone's layout and dimensions.
The render shows a device that is very similar to the year-old Galaxy S4, but which is larger in every direction. At 141.7 x 72.5mm, the Galaxy S5's footprint is taller and wider than the S4's 136.6 x 69.8mm, suggesting rumours of a larger 5.25in screen are correct.
Measuring 8.2mm thick, the Galaxy S5 is 0.3mm thicker than its predecessor, and as with previous Galaxy S models the 5's central rear camera sticks out by another millimetre or so.
Although the render's back and sides are a silvery-grey colour, it isn't yet known for sure if the Galaxy S5 will offer a metal or plastic finish. While the S3 and S4 both came in metal-coloured plastic, rumours suggest Samsung will offer two version of the S5 - one in plastic, and a more expensive model finished in metal, expected to be aluminium.
No curved display
Crucially, the render shows the device having a flat screen, opposed to rumours that Samsung would fit the S5 with a curved display similar to that used on the Galaxy Round.
The leaked render comes from Sonny Dickson, who has built a reputation for getting his hands on hardware - mostly recent iPhones and iPads - some time before they are launched. Last year, Dickson published photos of the iPad Air and iPad mini with Retina display before Apple announced them.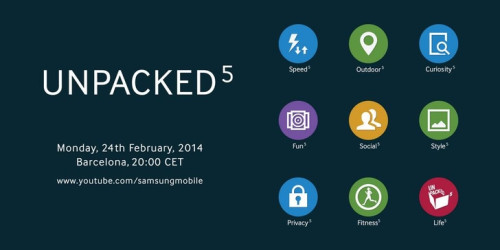 Updated user interface
Having already sent out invitations to its Unpacked 5 event in Barcelona, Samsung followed up with a second invitation to the same event, this time with nine icons thought to represent an updated user interface for the S5.
The icons are circular with pastel colours and have a similar design to Apple's 'flat' icons used in iOS 7. their design is somewhat removed from that of Android and Samsung's previous incarnations of TouchWhiz, suggesting the company is looking to move away from Google and create its own identity.
The Galaxy S5 is expected to have a 64-bit processor with 4GB of RAM, a 16-megapixel rear camera with Ultra HD video recording, and a '2K' screen resolution of 2560 x 1440.
All will be revealed at Samsung's Unpacked 5 press conference, which starts at 20:00 CET (19:00 GMT) on 24 February.