Samsung Galaxy S6 Edge hands-on - Is the curved screen smartphone any good?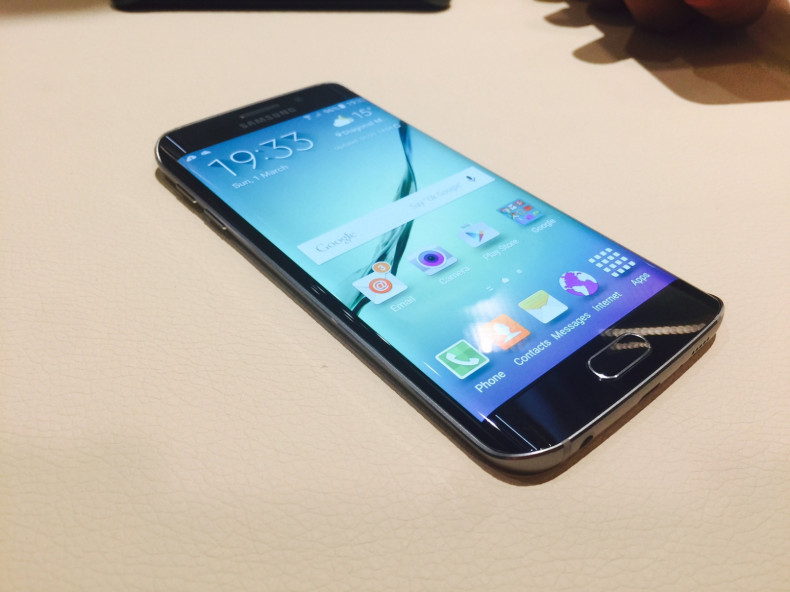 Samsung, as expected has just announced the Galaxy S6 and Galaxy S6 Edge at its press conference at Mobile World Congress in Barcelona.
Galaxy S6 Edge specs
5.1in display (2660 x 1440)
20MP rear; 5MP front
7mm; 132g
Exynos 7 64-bit processor
3GB RAM
32GB/64GB.128GB storage
Release date: 10 April
Here we bring you our first impressions of what we thought of the company's curved Galaxy S6 Edge which goes on sale in 20 countries around the world on 10 April:
Samsung Galaxy S6: Design
My first impression of holding the Galaxy S6 Edge wasn't related to the curved screen but was down to size. It felt really small, but not in a bad way.
I have been using the iPhone 6 Plus as my main phone for a few months now, and in comparison the S6 Edge felt really compact. Samsung has done really well to clim down this phone as much as possible and it felt light yet sturdy.
Gone are the plastics of previous Galaxy smartphones replaced with glass front and back and a metallic edge which looks decidedly like the iPhone 6 - but that's no bad thing.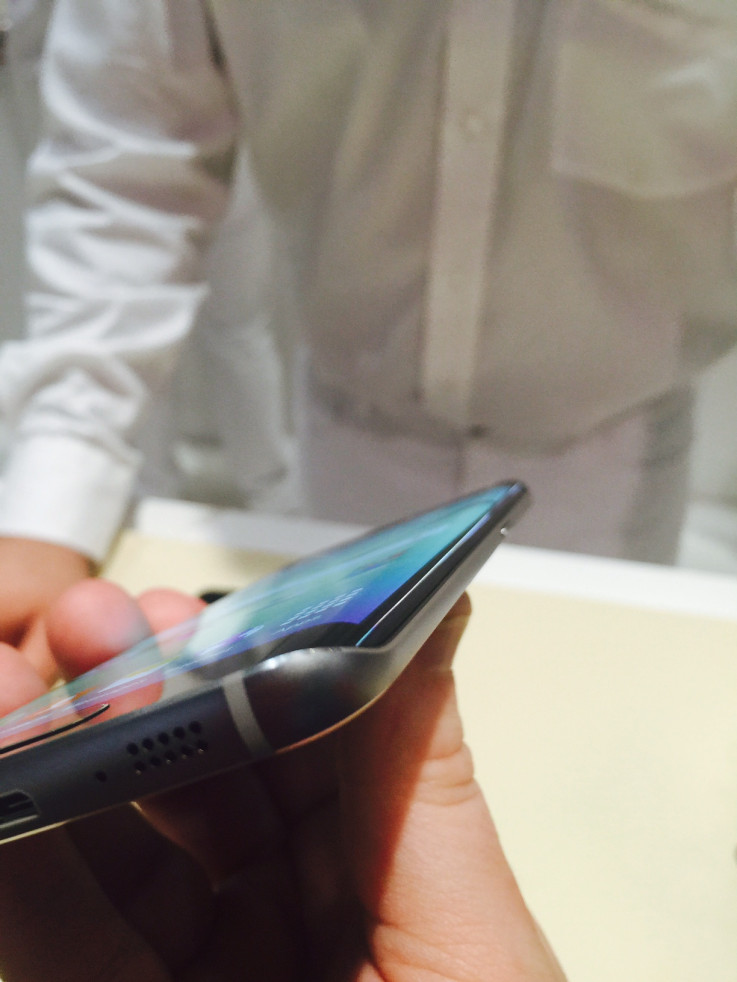 The curved screen on the Galaxy S6 Edge is an interesting design choice
IBTimes UK
The phone feels much more premium than previous models and the green and blue options offer something different from the black, white and gold we have been seeing everywhere from other manufacturers.
Samsung Galaxy S6: Screen
Of course, the big talking point about this phone will be that curved screen. And that is likely what it will be - a talking point. It will be something to show your friends down the pub but I really can't tell if there will be much more than that.
Samsung gave a couple of niche uses for the curved screen in its presentation but none that would make it s must-have feature for me. I also found that swiping was not the smoothest but that just may take some getting used to.
The screen itself looks great. It has a pixel resolution of 1440 x 2660 pixels which means its is ultra-sharp and super AMOLED technology really makes colours appear vibrant.
Samsung Galaxy S6: Hardware
After a very public problem with Qualcomm's Snapdragon 810 chip, Samsung has included its own Exynos 64-bit chip in the Galaxy S6 Edge together with 3GB of the faster DDR3 RAM. What does that mean? Well it should mean you all the processing power your need. It is hard to test out this components in a situation like this so we'll have to wait for a full review to see if the hardware lives up to Samsung's promises.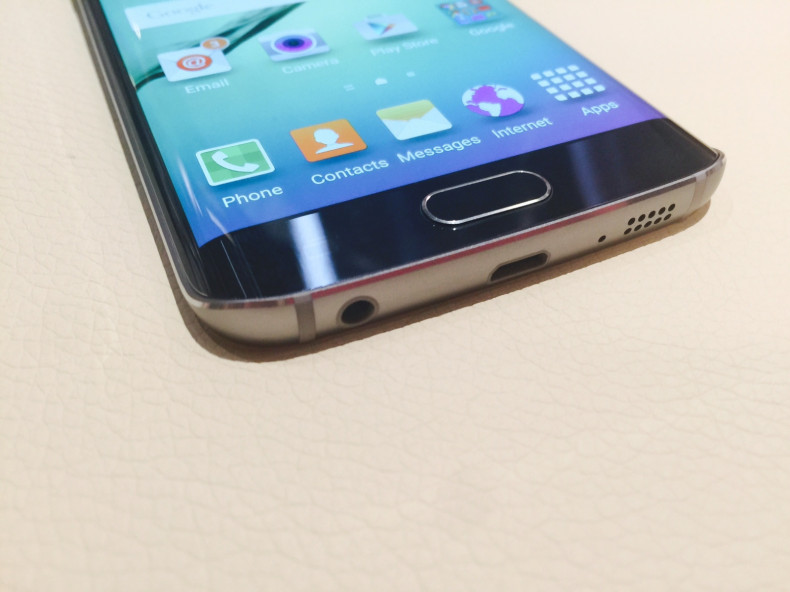 The phone will be available in 32GB, 64GB and 128GB storage options.
Samsung Galaxy S6: Battery
Samsung has, for the first time built the battery into its phones, meaning you won't be able to replace the 2600mAh battery if there is a problem. The reason Samsung has decided to do this is because it has included wireless charging for the first time.
Samsung supports both main standards in this area which should mean it will be a little less difficult to find somewhere to use this feature.
Even more impressive though is Samsung's claims it can fast charge the Galaxy S6 in half the time it takes to charge an iPhone 6 and it will be able to give you four hours of use with just a 10 minute charge.
If all these claims pan out it will be big selling point for the phone.
Samsung Galaxy S6: Camera
Samsung has give the front and rear cameras an upgrade.
The front camera features a 5 megapixel sensor and a fast f1.9 lens. This, together with larger pixels, means much better low light selfies. On the rear you get a 16MP sensor, the same lens and optical image stabilisation.
To show off the camera's capabilities, Samsung showed it side-by-side with images and video from an iPhone 6 Plus and while you have to take these things with a pinch of salt, the Galaxy S6 Edge did look much better in low light situations.
In the few pictures I was able to snap in the demonstration room, the camera did look impressive and the focus seemed particularly fast.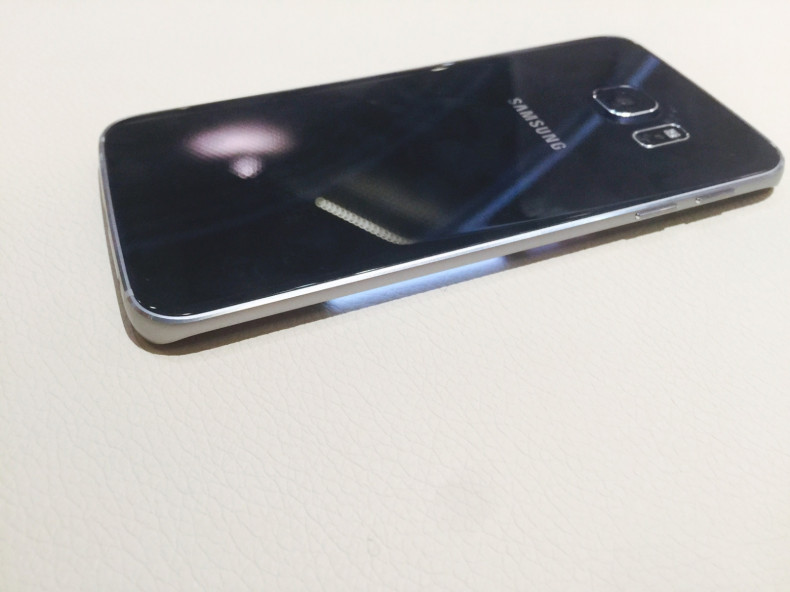 One really handy feature is the ability to now double click the home button to launch the camera, which is always in standby mode, within a second. I tested this out and while it took a bit longer when the phone was locked, it worked flawlessly.
Samsung Galaxy S6: Android and TouchWiz
Samsung has once again tweaked its TouchWiz software that sits on top of Android 5.0 (Lollipop). Samsung says it has scaled back its own software to make it less cluttered and more intuitive.
It certainly seems less invasive, but I still don't see the benefit to the consumer over stock Android.
Samsung has not tweaked the software I saw too much to allow for the curved screen, but I imagine as more developers begin to look at it, we will see a lot more apps appearing that do use it.
So, is the Galaxy S6 Edge any good?
I was surprised by how much I liked the Galaxy S6 Edge. It is really well made, feels premium and while the curved screen may be a bit of a gimmick, it at least makes the phone stand out from the huge number of devices that look like every other smartphone on the market.
I'm not sure the curved screen adds anything to the way I would use it, but it does make it visually appealing at least. I think it will take using the phone on a daily basis to know if the curved screen is a good thing or a bad thing.
The addition of wireless charging and Samsung Pay will also help Samsung differentiate and as always it is on the cutting edge when it comes to hardware.
I like the Galaxy S6, I'm just not sure how much yet.