A South Korean court has sentenced Lee Jae-yong, the heir to the Samsung conglomerate, to five years in prison over corruption charges.
Lee was accused of bribery in a scandal which also saw the impeachment of Park Geun-hye, the former president of South Korea.
Lee is South Korea's third- richest man and direct heir to the global electronics maker Samsung. The family company also has stakes in businesses that range from pharmaceuticals to ship building.
Lee, who was detained in February, has denied all charges and his lawyers are expected to appeal the case to the country's Supreme Court.
The charges levied against Lee mention a donation worth up to 41bn won ( £29m) to a non-profit organisation that was run by Choi Soon-sil, who is a friend of the former president. Lee, in return, was expecting political favours including the merger of two Samsung affiliated businesses that would have reportedly increased his strength within the company in 2015.
The merger went ahead after approval from the National Pension Fund in spite of the fact that it was reportedly opposed by several shareholders at the time.
Lee, however, has continued to insist that the payments to the non-profit happened without his knowledge. The money had reportedly moved from Lee to four establishments under Choi's control. Park allegedly gave Choi access to government documents for which she had no clearance.
Samsung has not denied making donations to Choi's non-profits, it was reported.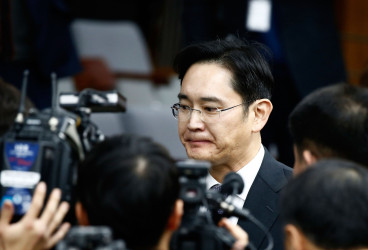 The case has also reportedly accused Samsung of paying for Choi's daughter to receive equestrian training in Germany.
According to reports, the sentence has effectively put an end to Lee's leadership role in the world's largest mobile phone maker. It is said that Lee became a de-facto leader of Samsung after his father suffered a heart attack in 2014.
Meanwhile, Samsung's share price has dropped by 1% since the judgement.
Samsung is a family owned and controlled conglomerate called a chaebol that was integral to the growth and development of South Korea's industrial prowess. The chaebol companies are seen as strong and powerful groups that dominate the market, according to a report by the NYT. The top 10 largest chaebol's revenue matches about 80% of South Korea's GDP.
Leaders of six of the families that control the top 10 business houses in the country have been convicted of financial, or "white collar crimes", says the report, but always end up getting light sentences. "Chaebol leaders used to get the same sentencing every time, there was even a saying called the '3-5 law' - three years sentencing, five years probation," said professor Park shortly before the verdict.
Lee's father- Lee Kun-hee was previously convicted of tax evasion in 2009 and received a suspended three-year sentence and was reportedly pardoned four months after the ruling. Judges reportedly mentioned his contribution toward the economic development of the country saying, that he demonstrated, "patriotism through business enterprise from job creation".
South Korea's president Moon Jae-in reportedly promised to clamp down on the chaebols and on white collar crimes by corporates just before winning a landslide victory in May this year.