Shipments of Samsung smartphones have increased 60% year-on-year, and while it has increased its market share by 3.9%, rival Apple's share of the market has shrunk by 5.7%.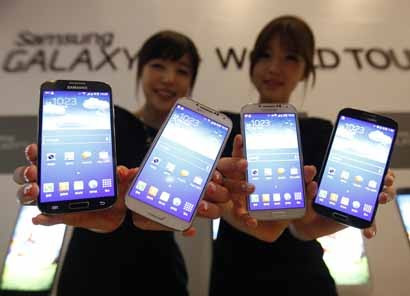 New figures from research firm IDC show that in the first quarter of 2013, Samsung shipped 70.7 million smartphones, bringing its total market share up to 32.7%. That is compared to the same period last year, where the South Korean technology giant sold 44 million devices, claiming a market share of 28.8%.
Apple shipped 37.4 million smartphones in the first three months 2013, up from 35.1 million a year earlier. However, its market share for the period fell from 23% to 17.3% year-on-year.
Taking into account feature phones as well as smartphones, the global mobile phone market grew 4% year-on-year compared to a slight decline in the previous quarter. In the first quarter of 2013, vendors including Samsung, Apple, LG, Huawei, ZTE and others shipped 418.6 million mobile phones which is significantly up on the 402.4 million devices shipped in the same period last year.
The first quarter of 2013 also marked the first time that smartphones outsold feature phones. In total, 216.2 million smartphones were sold across all vendors, accounting for 51.6% of all global mobile phone sales.
Including feature phones and smartphones, Samsung is still the top vendor, with a 27.5% share of the overall mobile phone market.
LG has seen its smartphone shipments more than double over the past year. At 4.8%, the company now has the third largest share of the smartphone market, shipping 10.3 million smartphones in the first quarter of 2013, up from 4.9 million in the same period a year earlier.
Despite its struggling TV business, LG saw its smartphone revenue jump 28.5% year-on-year and recently posted a Q1 profit of 133 billion won (£77.8m). That's up significantly from the 56bn won in profit the company reported in Q4 2012.
Chinese smartphone manufacturers Huawei and ZTE are just behind LG, with respective 4.6% and 4.2% shares of the smartphone market.