The suspected gunman in a murder-suicide at a San Bernardino elementary school reportedly had a brief and rocky relationship with his wife before he fatally shot her, one of her students and then himself on Monday (10 April), police said. Cedric Anderson and Karen Elaine Smith had been married for just over two months before the shooting.
San Bernardino Police Chief Jarrod Burguan told reporters Tuesday (11 April) that the couple had been in a relationship for around four years before tying the knot in January. The couple, both 53, separated soon after getting married. Burguan said it appeared Anderson was trying to contact his wife to convince her to return home, but she resisted.
"Those closest to her said that she had mentioned that his behaviour was odd and that she was concerned about his behaviour, and that he had made some threats toward her," Burguan said during a news conference, according to The Washington Post. "He did not make a specific threat to shoot her."
Burguan added: "We were also told from the family that she didn't necessarily take those threats seriously." The police chief said Smith, a special-education teacher at North Park Elementary School, did not tell anyone at the school the issues she was having with her estranged husband.
In an interview with The New York Daily News, Smith's mother Irma Sykes said "the real Cedric came out" after the couple married. "He was a wolf in sheep's clothing," Sykes said. She confirmed the pair dated for four years before getting married.
"He was so kind to her while they were dating. She had no idea," Sykes added.
According to Fox news, investigators searched Anderson's home and seized electronics and a note. Burguan said the note, which is believed to have been written by Anderson, discussed his relationship with Smith, his need for closure and how he felt disrespected. The police chief said the note did not contain information that would suggest it was a suicide note.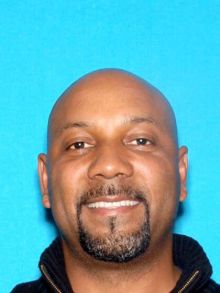 Anderson allegedly accused Smith of cheating within a month of getting married, relatives claimed. However, his Facebook page depicted their marriage as a happy one, with Anderson often professing his love for his wife. "I love being married to Karen Smith-Anderson!" he wrote on 27 February along with a video.
His last public post was on 15 March, Fox News reported. Smith reportedly ended the relationship a month and a half after their wedding.
"He had other motives," Sykes told The Los Angeles Times. "She left him and that's where the trouble began. She broke up with him and he came out with a different personality. She decided she needed to leave him." Police said Smith moved out of their home and stayed with her children but Anderson continued to reach out.
Authorities said Anderson entered Smith's classroom on Monday, raised a large-caliber revolver and opened fire. Two students near Smith were also struck during the shooting. One of the students, identified as eight-year-old Jonathan Martinez, died after being airlifted to a nearby hospital. A second student, a nine-year-old boy, was in stable condition at a hospital.
Fifteen students, in grades first through fourth, and two adult aides were in the special-education classroom at the time of the shooting. San Bernardino Police Captain Ron Maass told reporters on Monday that the children were not believed to be Anderson's targets but were instead "unfortunate recipients of injuries".