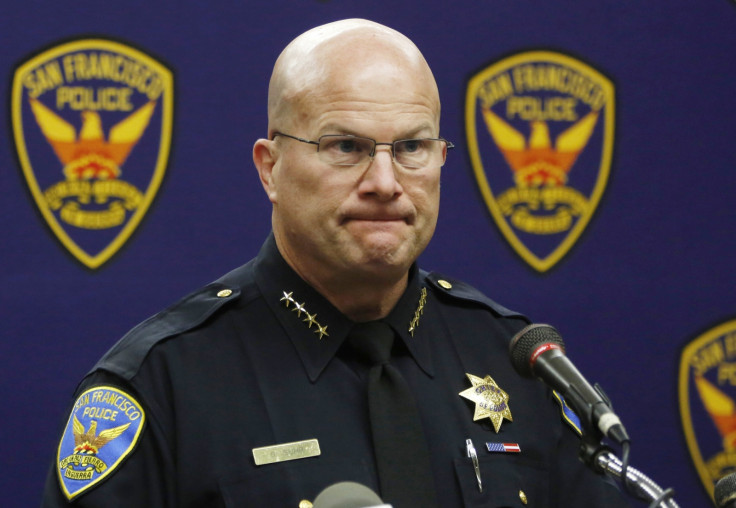 San Francisco police chief Greg Suhr has been forced to step down just hours after a police officer shot dead a black woman thought to have been unarmed. The shooting on Thursday (19 May 2016) is the latest in a series of scandals to hit the city's police department, including accusations of racism among officers and excessive use of force.
Suhr's resignation was announced by Mayor Ed Lee, who said it would help "heal the city". In a statement at City Hall, Lee said: "These officer-involved shootings, justified or not, have forced our city to open its eyes to questions of when and how police use lethal force.
"The progress we've made has been meaningful, but it hasn't been fast enough. Not for me, not for Greg. The men and women of SFPD put themselves in harm's way literally every day. We owe it to them to restore the community's trust in their work."
The 27-year-old black woman, who has not yet been named, was shot dead in the city's Bayview area.
Police said officers had approached her as she sat in a car that had been reported stolen. She then allegedly attempted to drive off before crashing into a truck.
Officers said as they tried to take her into custody, the vehicle moved and one of the two officers involved opened fire, striking her. She was later pronounced dead at hospital, police said. City authorities said there was no immediate indication the woman was armed or was trying to run down the officer.
Suhr is the latest US city police chief to step down or be sacked amid growing unrest over shootings of black suspects. This includes the police chief of Baltimore, Anthony Batts, and chief of Chicago, Garry McCarthy.
Thursday's incident was the third fatal shooting of a suspect by San Francisco police in the last six months. This includes the December shooting of 26-year-old black suspect Mario Woods, who was also killed in the Bayview area. Police fired a hail of bullets into Woods, who was carrying a knife, after claiming he extended his arm towards officers. Video footage of the incident later appeared to contradict this version of events.
In April, a homeless Latino man, Luis Gongora, was fatally shot. Police claimed Gongora had charged at them with a knife, a version of events that has been challenged by several witnesses.
Racist text messages
San Francisco police has also been marred in controversy after it emerged in March of last year that police officers had been exchanging racist text messages. The texts saw them refer to ethnic minorities as "barbarians" and "cockroaches", with one noting it's acceptable to shoot a black person because it's "not against the law to put an animal down".
The discovery of the text messages saw Suhr, 57, pledge to implement reforms, including training officers against implicit bias. In February, the Department of Justice also launched a review of the police department at the request of Lee.
While there had been numerous calls for Suhr's resignation over the past year, the Mayor had until Thursday's incident given the embattled police chief his backing. He also had support from several high-profile black community leaders in San Francisco.
Lee named Toney Chaplin, a department veteran of 26 years who previously led the department's homicide division, as acting police chief.