Sarah Ferguson In Talks To Host 'This Morning' After 'Loose Women' Appearance
The Duchess of York previously told former host Holly Willoughby she would love to return to the ITV breakfast show with a love phone-in.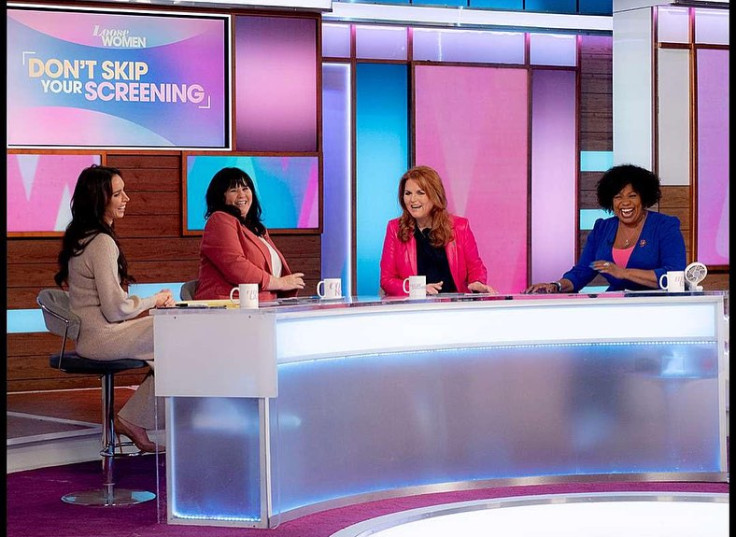 Sarah Ferguson is reportedly in talks for a hosting job on breakfast show "This Morning" after she impressed ITV bosses with her co-hosting gig on "Loose Women" earlier this month.
The Duchess of York is in talks for a guest slot after impressing ITV bosses with her performance on "Loose Women" in which she opened up about her breast cancer ordeal. A source for Mirror UK said the royal "was a real hit with ITV bosses" and that "everyone thought she was a natural".
"There is an open invitation for her to return to 'Loose Women' and there is also talk of her doing a guest slot on 'This Morning' or a mini-series for them. She has done quite a lot of TV work before - at one point she stood in for Larry King in the US," the source added.
The Duchess of York also previously worked as a special correspondent on NBC's "Today" show. As for her hosting stint on "Loose Women", another insider claimed that she "hugely enjoyed" the experience but refused to comment on the duchess' other projects.
She appeared on "This Morning" back in March where former host Holly Willoughby asked if she would be interested to return with a love phone-in. She replied: "Holly, I would love to do that maybe when you're back from your annual leave and the Easter holidays! But there's no question, that is right on topic. We love to love."
Aside from her TV hosting gigs, Ferguson also fronted two documentaries in the past including "The Duchess in Hull" and "The Duchess on the Estate". But she has yet to comment on reports about a potential hosting job on "This Morning".
ITV bosses have yet to find a permanent host to replace Willoughby. She announced her departure from "This Morning" last month 'for the sake of her family" after discovering that she was the target of a foiled kidnap and murder plot.
"I have let ITV know today that after 14 years, I will not be returning to 'This Morning'. To everyone who has ever worked on the show over the years, thank you so much. This is such a difficult goodbye, you are incredible and I forever will be proud of what we've done together. Thank you to everyone at ITV for being supportive. To every guest who has sat on our sofa, thank you," she announced on Instagram.
She concluded her message: "It's been an honour to just be part of it's story and I know this story has many chapters left to go. Sadly, however, I now feel I have to make this decision for me and my family."
In the meantime, the show has been fronted by part-time presenters including Alison Hammond, Josie Gibson and Rochelle Humes. ITV also recently announced that Cat Deely will host "This Morning" alongside Rylan Clark for a week from Monday, November 13.
During her appearance on "Loose Women", Ferguson opened up about undergoing single mastectomy and reconstructive surgery. She admitted to feeling paranoid that the cancer cells has spread to other parts of her body.
"And then of course you start four in the morning syndrome. You know that moment when you suddenly wake up and go 'oh I'm sure I've got cancer somewhere else... I'm gonna go and ring my doctor'," she shared.
The Duchess of York also encouraged viewers to get a mammogram because it could save their lives. She said her test results did not show any lumps which are normally associated with breast cancer, but there "was a shadow, it was like a splat".
Ferguson announced her breast cancer diagnosis in June and had her single mastectomy at King Edward VII's Hospital in London. She has since been recovering at Royal Lodge in Windsor.
© Copyright IBTimes 2023. All rights reserved.