Four "black widows" have been put on the watchlist of Russian security services as it steels itself for terrorist attacks it believes may be planned for the Sochi Winter Olympics, according to NBC News.
As Putin's government ramps up for the Games, which open on 7 February, wanted posters have been put up in Sochi portraying the suspected "black widow" terrorists. Among them is Ruzan Ibragimova, also known as Ruzanna, 23 ,widow of an Islamic militant killed by Russian security forces in 2013.
Russian intelligence was told that she may have left the restive Russian republic of Dagestan. She was described as having a limp in her right leg, a scar on her cheek and a left arm that does not bend at the elbow.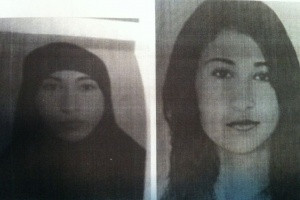 Putin has staked a lot on the Games, which are meant to show how far Russia has come since the collapse of the Soviet Union in 1991.
Terrorism fears around the Olympics flared after an Islamist group from the north Caucasus threatened to attack hosts and visitors in an online video.
"If you [Vladimir Putin] hold the Olympics you will receive a present from us for you and all those tourists who will come over," the men in the video said.
"It will be for all the Muslim blood that is shed every day around the world - be it in Afghanistan, Somalia, Syria, all around the world. This will be our revenge."
The group also claimed responsibility for two suicide bombings that killed at least 34 people in December in Volgograd. It said two men called Suleiman and Abdurakhman, from the Vilayat Dagestan group, which is linked to Ansar al-Sunna, carried out the attacks.
Dagestan has suffered years of heavy fighting between the Russian army and armed Muslim groups.
Moscow has been accused of heavy-handed tactics and using collective punishments to curb the uprising.
Islamist leader Doku Umarov has urged fighters to attack the Games in Sochi, which is 1,000 miles from Dagestan.
Russia has promised to protect Sochi with a "ring of steel".