Schneider Electric CEO says war against climate change will be won or lost in cities
In a wide ranging interview with IBTimes UK, Jean-Pascal Tricoire discusses his company's role in facilitating an energy efficient world.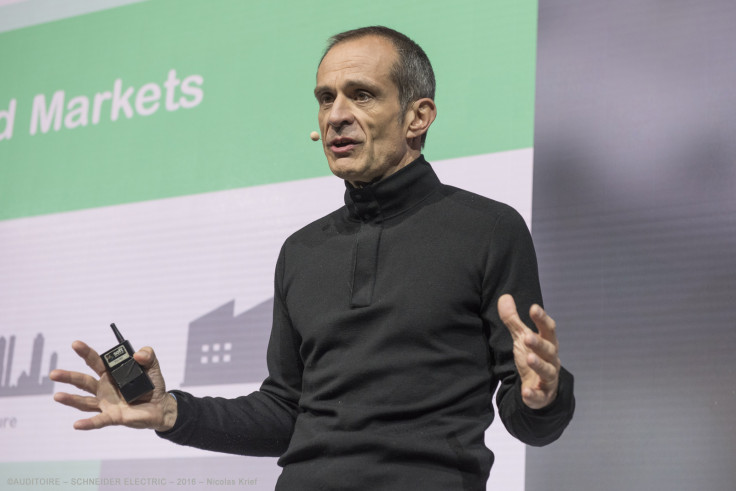 The war against climate change will be won or lost in the urban world, according to the boss of one of the world's largest provider of energy management and automation solutions, spanning hardware, software, and services.
Meet Jean-Pascal Tricoire, Chief Executive Officer and Chairman of Schneider Electric. In an exclusive interview with IBTimes UK on the sidelines of CERAWeek, one of the energy sector's most important fixtures, Tricoire says: "Cities represent 80% of the world's consumption, and 80% of the world's carbon emissions. So the fight against climate change would be won or lost in the cities. The significance of the task ahead cannot be understated."
Schneider is at the heart of a push towards a low carbon world, providing solutions to a plethora of sectors. "Our core mission is to help define a world where things are connected and made transparent for digitisation in an energy efficient environment, one that is much easier to navigate courtesy of technology."
Moving on from the 1990s
To achieve such a broad-based cross-sector objective, Tricoire has presided over some profound changes to Schneider's operating model, having been CEO for over a decade of a company he joined in 1987.
"I can point to three major transformations. The first being geographical – a mere 15 years ago our company was focussed mainly on US and European markets." That did not sit well with Tricoire who had lived in China and Africa and recognised tremendous opportunities in burgeoning emerging markets.
"I accelerated the development of many of these markets, especially India and wider South East Asia, Latin America and Middle East. Today, over 40% of our business is done in emerging economies."
"All the exponential growth is coming from emerging economies – look around you – new cities, residential hubs, factories are all being built in India, China and African countries; in many cases from scratch."
The company's strategic expansion means that in 2017, the Americas account for 30% of Schneider's headline business, with Europe, Middle East and Asia and Asia Pacific each accounting for similar, slightly smaller percentages. It's a marked contrast from the Schneider of the 1990s.
"The second transformation, ongoing for the last 15 years, is our switch from pure play electrical products – where we have a world leading franchise – to the world of the profound change the internet is bringing to those products; i.e. a life of connectivity."
Tricoire says what's fashionably described as the Internet of Things (IoT) is something his company has known and developed for over 20 years. "We call that a time transparent factory, where we bring every machine, every system to connect and interact."
The Schneider of 2017 sees 50% of its business premised on communication and software products, with 20% of headline business coming from software alone.
The companys third transformation under Tricoire's watch was a change of sales portfolio and tactics. "Roughly 15 years ago, we were just selling a sort of a 'lego' of energy products." However, witnessing rising connectivity and how that might impact customers' needs, the approach was altered.
"Atop the product portfolio, we decided to become full-service specialists by establishing competencies in consulting, engineering, strategising and commissioning for some of our most advanced customers."
Today, Schneider is not just a product vendor, but a "holistic enabler" for customers' challenges from oil and gas sites to datacentres, food and beverage plants to hospitals. And the reward? The Fortune Global 500 company – already a force reckon with in its sector – has tripled its value in the past 10 years to €36bn (£31.4bn).
Tricoire admits the pace of change even took him by surprise. Of course, it is every company's mission to maximise shareholder returns, but the Schneider boss takes pride in the fact the company provides solutions that not only ensure the lights are on, but that "life" itself is on.
"Electricity is life. We are conscious that 1.3bn people in the world have no access to electricity. In the past three years, we've helped basic electricity reach 4m people. In doing so, we also improved the skillset and training of thousands of people in the developing world. In some cases, we helped unskilled people train as electricians, which improved their earning potential, outlook, education and welfare of their families. We are proud to serve this undisputable cause of improving lives."
Local or global? How about 'multi-local'?
International politics has turned on its head and protectionism is rearing its head again. For a whole lot of companies that could complicate the operating climate. So is the Schneider CEO concerned?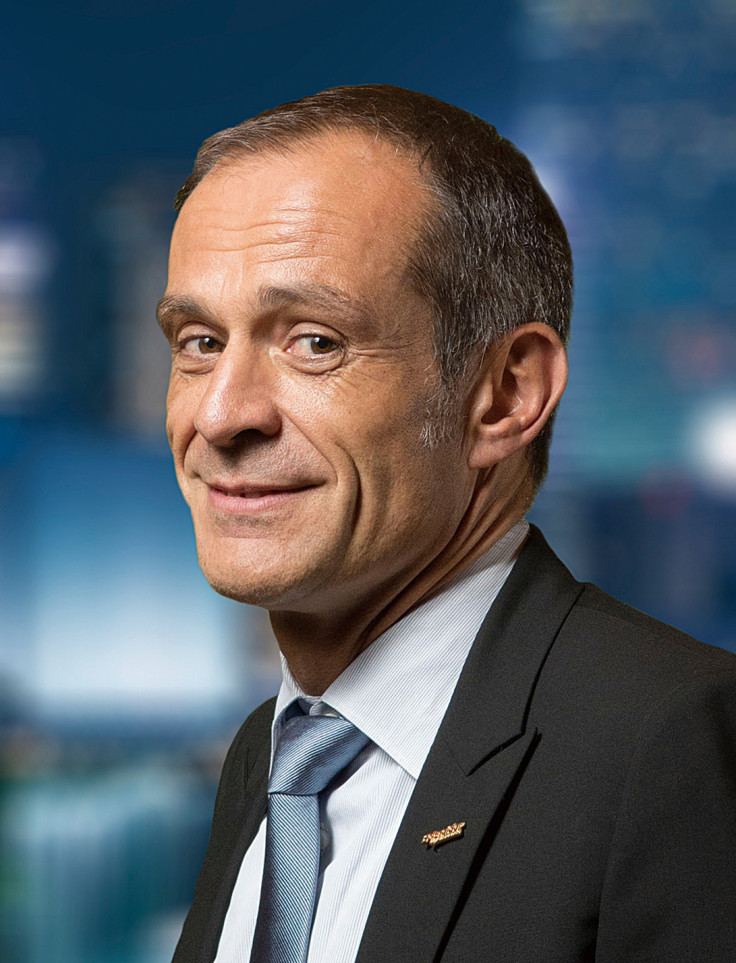 Tricoire says Schneider is "multi-local"
"No I am not; we can adapt to a world that's more compartmentalised. Schneider is 'multi-local'. Our customers want tailor-made products and ancillary services in a very short time, often requiring our people to be onsite immediately. So the spread of our people corresponds to our clients needs.
"We have 30 factories in India, 30 in US and 30 in China. So if the demand of the political classes in these countries is to manufacture in India, America or China, we already do that!
"Of course, I don't have factories in every one of the 160 countries we're in, but it gives you some sense of what we're about."
A case in point is offered by India's Prime Minister Narendra Modi. When Tricoire met the PM in 2016, he urged Schneider to be part of his 'Make in India' campaign and his vision of a more digitised nation.
"Whether it's manufacturing or digitisation, we're central to both in India with a workforce of 20,000, and there's more to come."
"Even plugs, fittings and voltage standards are not the same in every region, a divergence that's over 100 years old, so how can Schneider's solutions provision not be more localised?
"Furthermore, if the best innovation is coming from any of our hubs, we will export that to other markets. Yet, at the same time we are the most 'local of global' companies, with the US and China being our leading markets."
On smart cities and refineries
Given the oil and gas business accounts for less than 10% of Schneider's business these days, do refineries matter less than smart cities? "While we do far more business with smart cities than we do with refineries, it's not an either/or situation – both are important.
"I am as proud of our work with Reliance Petrochemicals in India, as I am with our work with City of Dallas where we equipped the Museum of Art with automation to lower its electricity consumption by 50%. We are helping to prepare for a world which is more efficient – where hydrocarbons are put to better and efficient use, where waste is managed, and pollution is minimised and eliminated. There is no sector bias."
Furthermore, Tricoire has some choice words for those who say the oil and gas business lags behind when it comes to process optimisation and digitisation.
"Based on my 30 years with Schneider, I can tell you that is an incorrect assumption. Drillers and refiners have known about IoT before the acronym became hip in California. Some processes are so mission-critical that oil and gas sites have had to digitise well before other sectors went down that pathway.
"The only difference being both the connectivity and application is on premise. They are not connected off-site, and in many cases for good reasons, especially pertaining to cyber-security.
"For 20 years we have been connecting objects to software in the oil and gas business. That's 450,000 systems and billions of infrastructural objects connected. Connectivity is one thing, the sector has also advanced in leaps and bounds in terms of using augmented or virtual reality to optimise planning and benchmark installations. The oil and gas sector has nothing to be ashamed off over its digital progress. "
As for the progress of the global economy, Tricoire remains optimistic. "I feel happier about the next 12 months. I think the global economy is in a good place. However, since the global financial crisis of 2008-09, we have learnt to live in a very uncertain world.
"So we've positioned Schneider with a heavy research-and-development emphasis, spread across multiple markets. That means if something has to happen in one market it does not impact the whole company, and there is natural corporate balance."
© Copyright IBTimes 2023. All rights reserved.