A school in the central Indian state of Madhya Pradesh faces action for brutally punishing its students. The incident happened last week after the 5th September Teachers' Day celebration when over a dozen students missed it and also failed to give Rs 20 (£0.23). The school viewed their absence with great seriousness.
Teacher's Day is celebrated in India on 5 September every year on the birth anniversary of a great teacher, Dr Sarvepalli Radhakrishnan. He was also a well-known diplomat, scholar and president of India. The day is celebrated as a mark of tribute to the contribution made by teachers to society.
The school authorities took the students to the terrace of the school and forced them to do squats and duck walk. They were also caned mercilessly and humiliated, the Asian News International reported. In addition, the students were fined Rs 50 each.
Soon after the ghastly incident came to light, the education officer of Ashok Nagar district Aditya Narayan Mishra said the strictest action would be taken against those involved in the incident.
He termed the incident as "inhumane" and said: "Action will be taken against the school authorities after an inquiry." He said based on the findings of the inquiry a case would be filed against the school owner.
Ashok Nagar superintendent of police Santosh Singh Gaur said: "Police are investigating the matter." Police also questioned some of the students about the incident. One of the students of grade 5 said: "We had not gone to the school on Tuesday. When we reached the school on Wednesday, the teacher first scolded us and then took us to the terrace and made us squat."
According to him, the students were made to hold their ears with their hands passing between the legs, and were also caned.
The episode came close on the heels of a similar incident in which a teacher was caught on CCTV camera mercilessly slapping a seven-year-old multiple times in Uttar Pradesh.
Retika V John was seen slapping the grade 3 schoolboy, named Ritesh, about 40 times in two minutes after he allegedly did not respond when she called out his name while taking the attendance.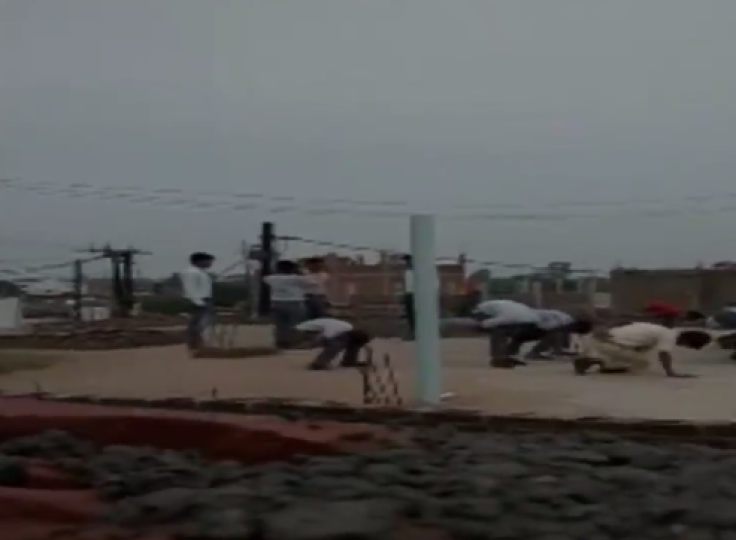 Although corporal punishment in schools is banned in India – like in many parts of the world – it is still seen as an accepted way of disciplining children in the country, at least within homes.
India's Right of Children to Free and Compulsory Education (RTE) Act, 2009, prohibits not only physical punishment but also "mental harassment" of students, thus making it a punishable offence.