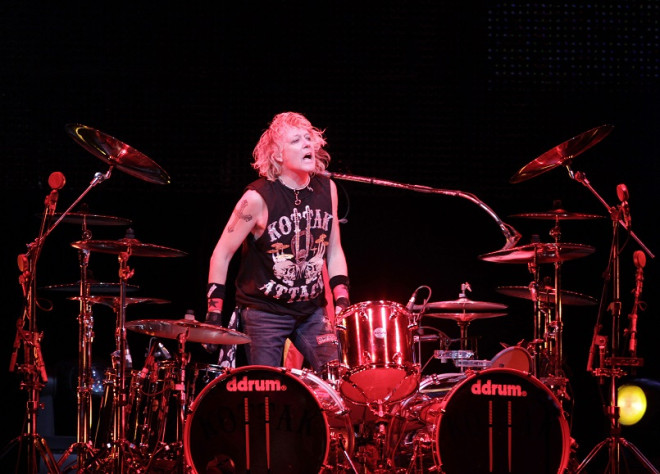 Rock band Scorpions drummer James Kottak has been jailed in Dubai after cursing Islam and giving Muslims the middle finger while drunk.
The 51-year-old will be deported after serving a one month sentence for offensive acts including removing his pants at Dubai's airport on 3 April.
The American also insulted police officers during the drunken incident, which happened as the German band, whose hits include 'Loving You Sunday Morning' and 'Always Somewhere', prepared to take off for Bahrain, where three days later they performed at a Formula 1 concert.
Kottak had been in transit at the airport having flown from Russia. He said he had drunk five glasses of wine on a flight from Moscow to Dubai.
The National reports the rocker started swearing and talking about "non-educated Muslims" before he flashed his middle finger at passengers.
Police also said the wildman flashed his behind at shocked onlookers.
One witness said he heard the drummer saying "what is this disgusting smell" before he insulted Islam, while another, a 27-year-old airport employee, said: "When he [Kottak] saw the Pakistani and Afghani passengers, he covered his nose and said that there was no way he will travel with them."
Police statements say Kottak lowered his trousers and asked people to touch his behind.
"I don't remember saying these words and I did not flash my middle finger," Kottak said to prosecutors.
When asked about taking down his trousers, he denied the act, adding: "I just lifted my shirt up to show the tattoo on my back... as a spontaneous act.
"There is no way that I would say such a phrase about Muslims, whether I was drunk or not. I confess to drinking alcohol but I refuse the other two charges, I did not do them."
Kottak was fined Dh2,000 (£324) for drinking alcohol and will be released soon as his sentence will be reduced to include his time spent in custody since 3 April.