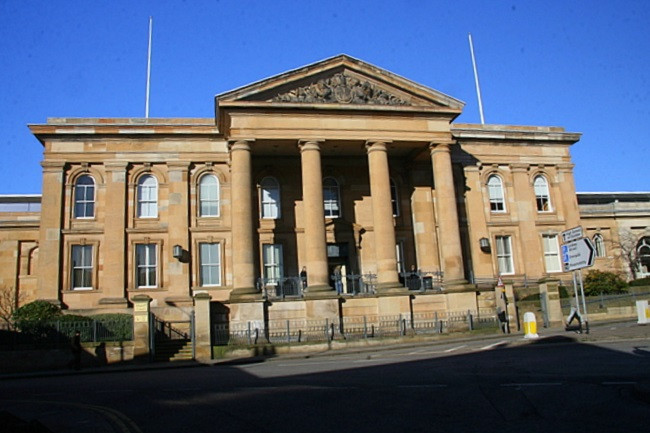 A German princess has been fined £1,000 after admitting to threatening to kill Muslims in a drunken rage at an Oktoberfest event in Scotland, a court heard.
Her Serene Highness Theodora-Louise, Prinzessin zu Sayn-Wittgenstein-Berleburg, who has been said to have brought "shame on herself and family", was in the dock at Dundee Sheriff Court and pleaded guilty to the racial offence and other assault charges while attending an exclusive bash at St Andrews – where she received an International Relations degree.
The court heard how the 27-year-old – who disguised herself from photographers waiting outside the court by wearing a long brown wig – was taken to a first aid room on the night of the party on 8 March after she tried to climb a fence and stripped off some of her clothes.
When security guard Farah Hussain attempted to cover her up, the court heard how she had become aggressive saying: "I was doing my nails this morning – I wondered how many Muslims I could kill."
Hussain had then reportedly left the room in tears.
Sayn-Wittgenstein-Berleburg, who works in her father's alternative energy busines, then stood on a chair and began ranting about her human rights before falling on top of another security guard who then restrained her, the court was told.
When police arrived, they also had to put her in legs restraints to take her into custody. She then lashed out at officers, later claiming that she thought she was being kidnapped.
Prosecuting, Trina Sinclair said: "A security guard assisted by Farah Hussain attempted to replace her clothing. She had begun to calm down but became aggressive again and said, 'I was doing my nails this morning and I wondered how many Muslims I could kill?'
"The accused stood on a chair and began to rant about her human rights. Cara Anderson stood behind her trying to stabilise the chair she was standing on but she fell on top of Miss Anderson."
She added: "When police arrived they found the accused on the floor in an arm lock and with her legs being held down by security.
"She was handcuffed but her demeanour didn't change. She kicked out and leg restraints were applied."
Sayn-Wittgenstein-Berleburg, who lives in Germany but gave the court an address in Chelsea, London, pleaded guilty to two charges of assault, one of breach of the peace aggravated by religious prejudice and one under the Police and Fire Reform (Scotland) Act.
Her defence lawyer, Douglas Williams said she had "brought shame on herself and her family".
He said: "Her behaviour was totally out of character – she has a degree in International Relations and has lived in Jordan, immersing herself in Middle Eastern culture. She accepts she made the comments described and that is of particular concern to her – she has no disposition against any group.
"Her behaviour was reprehensible but she has taken responsibility to come back to this country and face the music. The whole experience of being in custody for the weekend was extremely unnerving to her."
Sheriff Mark Stewart QC, who fined Sayn-Wittgenstein-Berleberg £1,000, told her: "I deal with you in the same way as I would deal with anyone who behaves in this way. These comments you made are unacceptable – they would cause nothing but division, concern and unhappiness."