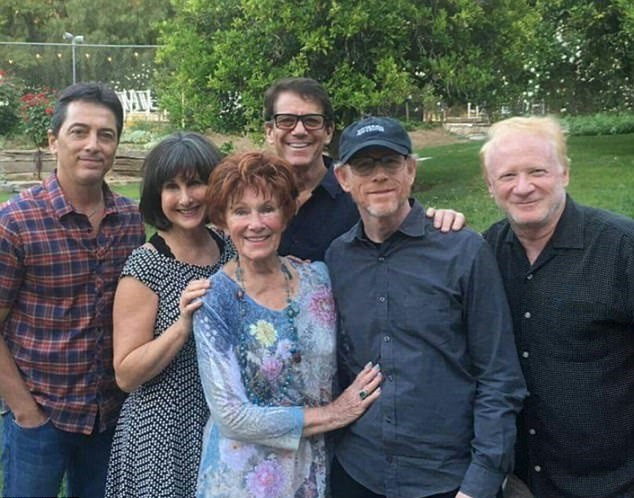 The cast of Happy Days were reunited at a memorial for their late co-star Erin Moran on Wednesday (4 May).
While Fonzie star Henry Winkler was absent due to a promotional tour for his new book, Ron Howard, Marion Ross, Don Most, Cathy Silvers, Anson Williams and Scott Baio gathered to celebrate her life.
Erin Moran, died on 22 April in Indiana aged 56. It was initially reported that she died of a heroin overdose, however the coroner's report – released on 24 April –confirmed the cause of death as complications due to stage-4 cancer.
Baio, who played Erin's boyfriend on spin-off show Joanie Loves Chachi, found himself at the centre of controversy after making seemingly insensitive comments regarding his former co-star's death.
Appearing on The Bernie and Sid Show last week he seemed to suggest the actress' death was the result of substance abuse.
"For me, you do drugs or drink, you're gonna die," he remarked adding: "I'm sorry if that's cold, but God gave you a brain, gave you the will to live and thrive and you gotta take care of yourself."
Responding to the public backlash that ensued on social media Baio, who is known for being one of Donald Trump's most high-profile supporters told TMZ the strong reaction was prompted by 'liberals trying to take him down' due to his political leanings.
"I'm sure they're attacking me because I'm a conservative," he said. "These people never attack the press for getting the story wrong about heroin. They attack me."
"I'm a person who speaks his mind and when I was told or heard that it was drugs, that's how I reacted."
The actor said his comments had been taken out of context saying: "I was asked ONLY about Erin's troubled past due to drug & alcohol abuse. I was still upset and said I felt that living that kind of a lifestyle will catch up with you and nothing good would come of it.
"THIS WAS BEFORE THE CAUSE OF DEATH WAS ANNOUNCED STATING STAGE 4 CANCER," he exclaimed.
Baio had however put the incident behind him as he joined his former cast mates to honour Moran, Mail Online reports. Sharing the photo of the reunion on his Facebook page, the 56-year-old wrote: "Celebrating the life of #ErinMoran #HappyDaysFamily."
Earlier Moran's Happy Days co-stars Henry Winkler and Ron Howard took to Twitter to pay their respects to the late actress.
"Oh Erin, now you will finally have the peace you wanted so badly here on earth, Rest In It serenely now, too soon," Winkler, who played Arthur 'Fonzie' Fonzarelli on the show, wrote on Twitter.
Oscar winning director Ron Howard, who played Moran's on-screen brother Richie Cunningham on the popular US series, said he was shocked by her unexpected passing. "It's been a rough time. My stepmother Judy passed away a couple of months ago, so the Erin event really did hit hard.
"I had no idea she was ill whatsoever... She was always the kid on the set, in a way. When I think of her then, which is how I choose to think of her, she was this feisty, spirited little girl," he said. '