Animal rights campaigners have reported details of the the latest Grindarap – an annual event in the Faroe Islands where locals round up and massacre huge families of whales.
The sea turned red as the blood of an estimated 150-200 mammals were sliced to death by hunters from the Danish islands, located in the Norwegian Sea.
The Grindarap is believed to date back as far as 1584. It is a method of whaling that drives entire pods of whales and dolphins towards beaches by trapping them with small boats and missiles.
The prey, typically short-finned pilot whales migrating through the Norwegian Sea in the summer, are then set upon other hunters armed with knives and lances.
There are usually a series of hunts in close succession to one another at this time of year. The whale meat is eaten by locals.
Various campaign groups have demanded that the practice, which is legal, be stamped out.
"The animals slowly bleed to death. Whole families are slaughtered, and some whales swim around in their family members' blood for hours.
"Whales and dolphins are highly intelligent creatures and feel pain and fear every bit as much as we do," PETA said.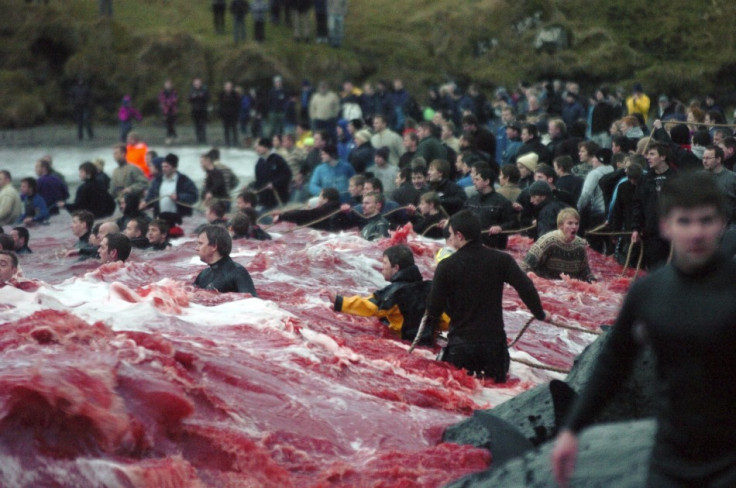 A Facebook post on 16 June written by Sea Shepherd Faroe Islands Campaign documented the latest Grindarap. It read:
At about 12.45 today, Faroese time, a pod of pilot whales estimated to be between 150-200 members large was sighted east of Nolsoy, an island just outside of the Faroese capital, Torshavn. Boats, including the Faroese government fisheries patrol vessel, Brimil, were sent to drive the pod to the nearby killing beach in Torshavn.
The whales were beached in Torshavn at around 14.30, meaning the drive took approximately 1 hour and 45 minutes. The locals there then began to slice the spinal cords of all the individuals, claiming this took around 20 minutes further. The killing was witnessed by several hundred people, standing on the surrounding cliffs.
After the grind was over, another pod of 8 white sided dolphins were spotted by a boat returning from the first kill. The 8 white sided dolphins were driven to Skálafirði, drawing a crowd of around 35 people to witness the killing.
In the end, the oceans lost around 150 pilot whales (the full numbers are still not released) and 8 white sided dolphins.