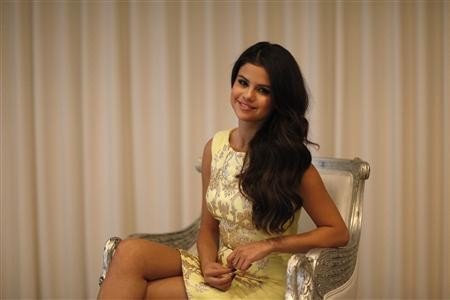 Selena Gomez's family is reportedly upset with her rekindling romance with Canadian pop star Justin Bieber.
The 21-year-old Come And Get It singer was spotted wearing a ring on her left hand on 26 March, and her dear ones are worried that she will "do something crazy like elope."
"The ring was a gift from Justin, it's not an engagement ring, but they are back on and very serious," a source close to the former Disney star told Hollywood Life. "Her family is extremely worried that she'll do something crazy like elope with him. Selena is totally wrapped back up in Justin, it's the same pattern happening all over again."
Gomez's mother Mandy and stepfather Brian Teefey are concerned about her.
"She's telling everyone that she's fine, that they're all overreacting but that's not making anyone feel better about this," the insider added. "The problem is no one wants to alienate her. She's an adult now, it's not like her parents can tell her what to do, so it's a very delicate situation. No one in her circle is happy that she's back together with Justin, they've even talked about staging some sort of intervention to get her away from him but at this point that would only push her closer to him. Until he screws up again there's not much that anyone can do."
Gomez has previously voiced her concern for the Baby hitmaker, who has been involved in a series of unfortunate incidents lately.
"Part of life and growing up are going through things that aren't comfortable - and you hope you come out the other side a stronger person," she told MailOnline at The Sundance Film Festival. "I will always care about Justin no matter what - my instinct after all we have been through is to protect him from any harm."
"Whatever he is going through I want him to come out of it stronger," she added.