Serena Williams' fiance Alexis Ohanian has a 'hunch' on the gender of their baby
Williams, 35, is expected to give births in the next two months to her first child with Reddit co-founder.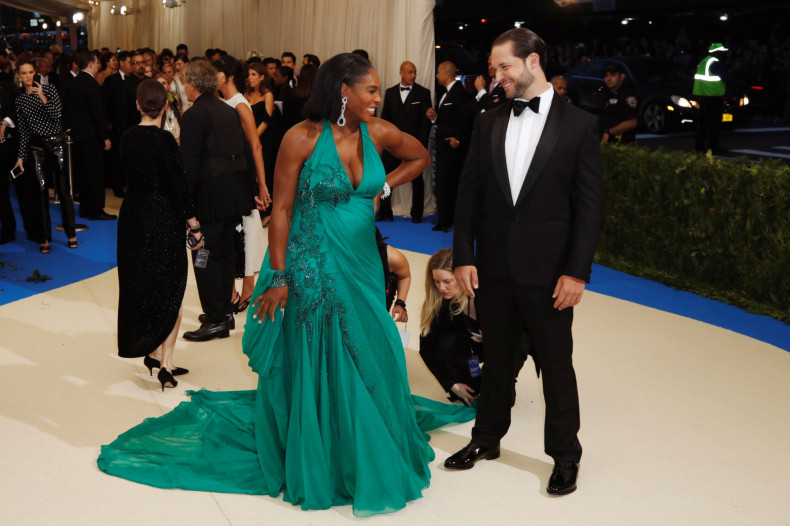 Serena Williams and her fiance Alexis Ohanian are fairly confident they have guessed the gender of their unborn baby. The power couple are currently in the last stretch of Serena's pregnancy and are leaving the sex of their first child as a surprise for the delivery room.
In an interview on Jimmy Kimmel Live, Ohanian, 34, revealed that he and Serena, 35, have discussed their "hunches" on whether the baby will be a boy or girl. His wife-to-be, a seven-time Wimbledon champion, has also come up with a theory on the gender based on her triumph at the Australian Open in February, which she won shortly after discovering she was pregnant.
Ohanian, co-founder of Reddit, told the late night talk show host: "We don't [know the gender] we're going to be surprised. I will say this, though: We have our hunches. She put it really well, actually.
"Obviously, she won the Australian Open while pregnant and she remarked that she feels like it has to be a little girl, because everything that little baby went through and handled like a champ, only a woman could be strong enough to take on."
In June, Serena's older sister and fellow tennis player Venus Williams was thought to have accidentally leaked the sex after referring to the baby as a "she".
Later in his chat with Kimmel, Ohanian praised Serena's empowering photo shoot with Vanity Fair magazine where she graces the cover baring her baby bump in the nude. After clarifying that he took part in the photo spread – "they put those [images] way in the back" – the tech entrepreneur gushed: "As soon as I saw Annie Leibovitz, a living legend photographer, and as soon as they started posing for this you could just tell you were watching something amazing."
He continued: "I was very lucky to be raised by a very strong, amazing mother and she's got a good point. This is our first child and if anything it's just reinforced just how strong, amazing, powerful and awesome women are – and how useless we are during this whole thing because it's like, I can make you a grilled cheese. Does this help? We're worthless."
Despite being in a relationship with, arguably, the world's greatest tennis player, Ohanian is reluctant to take lessons on the court from his revered partner. The businessman told Kimmel: "I've never picked up a racket. I was so ignorant when we first met I'd never even watched a match on television.
"I would change the channel [because] I was such an arrogant football snob that I would change the channel when tennis was on. She's actually offered to give me lessons but I turned them down because I wanted to be the only person in the world who had ever turned down Serena Williams for tennis lessons. And because I knew there was just no benefit to her seeing me be that bad."
The couple, who got engaged in December 2016, seem to be well-prepared for their new arrival after attending a prenatal class in July. In Snapchat videos, the couple were filmed attempting to swaddle the doll baby in a blanket and while Serena's efforts fared well, Ohanian may need to attend another lesson.
Watch Alexis Ohanian on Jimmy Kimmel Live: