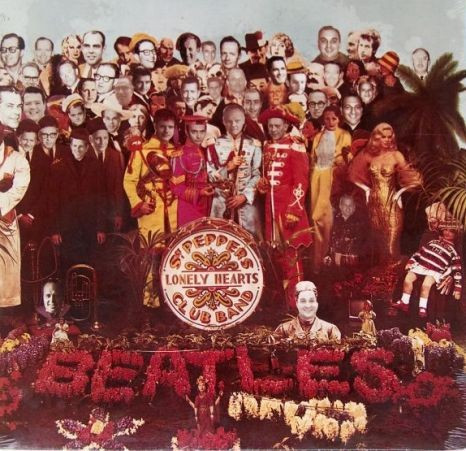 An adapted version of The Beatles' 'Sgt Pepper's Lonely Heart Club Band' record sleeve has been named the world's rarest album cover.
The modified artwork, which features pictures of music executives instead of the Fab Four themselves, has been valued at approximately £70,000.
It was created by to celebrate the success of the album - released June 1967 - and was released Christmas of that year. Only about 100 are thought to have been made.
The cover is just one of five Beatles album albums to feature in the top ten list of most expensive record sleeves of all times, according to Record Collector magazine.
The other albums covers by the Beatles include the first 10 copies of the 1968 self-titles album, which became known as 'The White Album' because of its white cover, which is valued at £7,000.
Another Beatles album featured in the list is the original sleeve for the U.S. only released album 'Yesterday And Today', which featured the band posing with dismembered doll parts and slabs of meat, valued at £2,000.
The album was quickly withdrawn from the U.S. market because of its shocking cover.
The 10 most expensive record sleeves of all time and their estimated value is as follows:
1. The Beatles - 'Sgt Pepper's Lonely Hearts Club Band' (limited edition Capitol version) (£70,000)
2. The Beatles - 'The Beatles' (£7,000)
3. Madrigals - Magic Key To Spanish Volumes 1 and 2 (£3,500); The Nation's Nightmare (£3,000)
4. The Beatles - 'Introducing The Beatles' (£3,000)
5. The Beatles/Frank Ifield - 'England's Greatest Recording Stars: The Beatles & Frank Ifield On Stage (£3,000)
6. Tinkerbell's Fairydust - 'Tinkerbell's Fairydust' (£3,000)
7. AC/DC - '12 Of The Best' (£3,000)
8. The Beatles - 'Yesterday And Today' (£2,000)
9. Dark - 'Dark Round The Edges' (£2,000)
10. Hank Mobley - 'Hank Mobley' (£2,000)