Eight-year-old Shaharzad Hassan from Aleppo in Syria has drawn a series of pictures depicting her family's plight and their long journey to Europe. They, along with thousands of other Syrian refugees, are now stranded at the Idomeni refugee camp on the Greek-Macedonian border. Shaharzad's drawings depict the hopes and fears of the millions of people who have fled the horrors of war in Syria, and the frustrations faced by thousands of refugees and migrants whose journey to western Europe has been cut short.
One of Shaharzad's colourful drawings shows Syrian President Bashar al-Assad sitting on bags of money in his palace while his forces drop bombs on his people. Another depicts the atrocities committed by Islamic State (Isis, Daesh). Others illustrate her family's exodus, by sea, rail and on foot, only to be stopped by the authorities at the Macedonian border.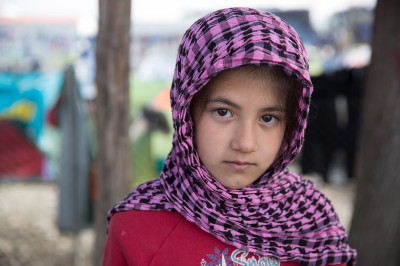 Greek police distributed a flyer to the thousands of migrants and refugees in the camp, telling them the Macedonian border is closed and they should move to official shelters. However, many of them said they don't want to move to the reception centres out of fear they will miss their chance to cross the border. They are waiting for the conclusion of a meeting of EU leaders with Turkey in Brussels, hoping a plan being devised to tackle the migrant issue in Greece may include a decision to open the borders towards Germany, where most of them want to go. However, that is looking unlikely and countries on the route towards Germany have imposed border controls. Conditions at Idomeni are deteriorating by the day and aid agencies are working hard to support migrants.