Shia LaBeouf live-streams Las Vegas wedding to Mia Goth – but how much did it cost him?
Ceremony was officiated by an Elvis Presley impersonator at the Viva Las Vegas chapel on 10 October.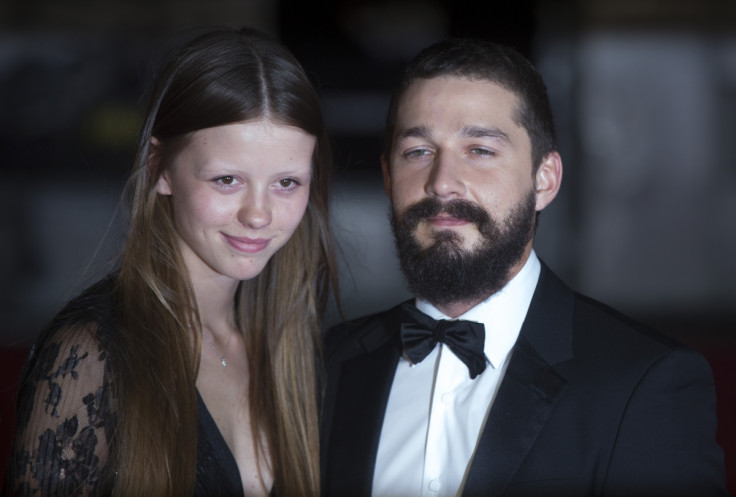 Hollywood star Shia LaBeouf and his girlfriend Mia Goth have tied the knot. The couple married in Las Vegas on 10 October and decided to share their special day with the world by live-streaming the wedding ceremony.
LaBeouf, 30, and Goth, 23, walked down the aisle at the Viva Las Vegas chapel on the famous strip with an Elvis Presley impersonator officiating the ceremony. According to TMZ, who obtained footage of the live-stream, the couple opted for a themed Hawaiian and Elvis ceremony which are offered as packages at the chapel. The Elvis impersonator serenaded the couple as they walked into the church and shared a dance together before exchanging vows.
Reciting his lines, LaBeouf said to Goth: "With this ring; I thee wed; With a prayer; that our love grows stronger; through the passing years. And I'll do whatever you ask me to do," while the actress responded: "I give you this ring; as a token and pledge; of our vows to each other; praying that our love; shall never fade. And I'm pretty much going to do whatever I want."
Other promises included vowing to love each other "like a hunka hunka burning love" and to adopt each other's hound dogs. The new husband-and-wife also shared a dance to a singer performing Adele's version of Make You Feel My Love during the ceremony.
TMZ reports that the wedding set LaBeouf back $700 (£569) with the package including the Elvis officiator, one hula dancer, a six-rose bouquet and matching boutonnière, 10 ceremonial photos and a courtesy limo drive from any pick-up point on the strip.
Other themed wedding packages at the chapel include Tom Jones, James Bond, gangster, dracula, pirate and zombie, while the option to live-stream the nuptials is also offered. Packages are said to start at £275.
LaBeouf and Goth are believed to have started dating in 2012, after meeting on-set of their movie Nymphomaniac: Vol II. The British actress wore her engagement ring for the first time publicly in March 2016 at a Paris Fashion Week show. Reports that the couple would marry in 2016 first emerged in March, with a source telling Us Weekly they were looking to set a wedding date.
Watch Mia Goth before marrying Shia LaBeouf in Las Vegas:
© Copyright IBTimes 2023. All rights reserved.