Accused murder plotter Shrien Dewani turned up wearing a rubber mask for secret gay sex sessions with a male prostitute, a court has been told.
Dewani is said to have enjoyed dressing up in rubber pants and a rubber vest during visits to the German Master in Birmingham.
On one occasion the care home owner's nipples were bleeding so heavily from sadomasochistic activity, the German Master wanted to halt the session.
Giving evidence at Dewani's trial for allegedly plotting his new wife Anni Dewani's honeymoon murder, the German Master – real name Leopold Leisser – revealed embarrassing details about the care home owner's sexual habits.
He told a high court in Cape Town, South Africa, lurid details and claimed Dewani dreaded his secret double life being exposed.
Leisser claimed Dewani rubbed cocaine in to his nipples, enjoyed being ordered to urinate in to a mug and lusted for "no limits sex".
Dewani paid for three sessions with the German Master, paying between £360 and £400 a time, in the months before marrying Anni.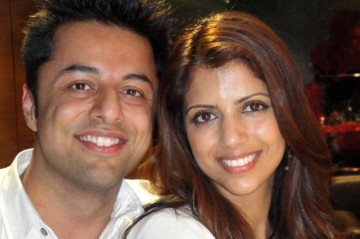 In a statement, Leisser told the trial: "Dewani stated that he really trusted me, and that he wanted to do other things, like having his face slapped, and being humiliated and degraded in general - in particular he asked me to call him P**i during the session."
Recalling Dewani's nipples bleeding on one occasion, Leisser said: "I didn't think it appropriate that we have the session as I was afraid to touch him, but Dewani was very keen to continue, so we did," Leisser said in his statement.
"I stopped a few times during the session as the nipples were bleeding so badly."
Former soldier Leisser said he liked Dewani and found him "very friendly" and "quite educated".
But the judge at Dewani's trial questioned whether Leisser should give evidence because it was not pertinent to proceedings. Under South African law, prosecutors are not required to prove a defendent's motive.
Dewani, who managed a string of care homes, denies arranging for his wife to be killed while on honeymoon. The case continues.