Murder suspect Shrien Dewani admitted having sex with a male prostitute called The German Master as he denied plotting to kill his wife, in a court in Cape Town.
Dewani made the admission in a long-awaited statement by him about the honeymoon killing of Anni Dewani and his alleged role in planning the murder.
In an emotional statement, the 34-year-old care home owner denied paying a gang to shoot dead his new wife in a hit disguised as a car-jacking.
Dewani has gone on trial following lengthy delays caused by him fighting extradition from Britain.
Evidence in the case shed light on the wealthy British-Indian's secret double life which included sex with male prostitutes during drug-fuelled bondage sessions.
Addressing claims made by an escort named The German Master - real name Leopold Leisser - Dewani said: "I have had sexual interaction with both males and females. I consider myself to be bi-sexual. My sexual interactions with males were mostly physical experiences or email chats with people I met online or in clubs, including prostitutes such as Leopold Leisser.
"My sexual interactions with females were usually during the course of a relationship which consisted of other activities and emotional attachment."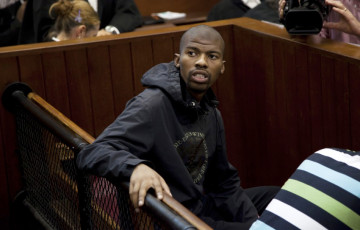 Recounting the night four years ago when Anni was shot dead in a taxi near a township in Cape Town, Dewani said an attacker put a gun to his head during a heist.
Prosecutors allege Dewani paid for his wife to be killed and the driver of the taxi - who is serving a lengthy jail term for involvement in the killing - is likely to give evidence stating he was paid £850 to carry out the assassination.
Dewani painted a picture of a terrifying heist during which he lay on his wife Anni in a bid to protect her from gun-wielding attackers who appeared suddenly outside the taxi.
"Anni was screaming," said Dewani. "They both instructed me to tell Anni to keep quiet. The driver said that they were not going to hurt us, they just wanted the car and they were going to let us go separately. I begged them to let us go together.
"The next thing I remember, they were both shouting at me to get out. I pleaded with them to let us both go. They refused. The driver said they would leave Anni at the police station. I insisted that we both have to stay together. They became angrier and shouted at me to get out. The one with the gun put it to my head again and threatened to shoot me if I did not get out.
"I tried to open the door but it would not open. I recall the window opening. I recall hitting the ground and the car speeding away. The last thing I had said to Anni was to be quiet and not to say anything. I said this to her in Gujarati."
Dewani denies five charges against him. The trial continues.