A high-flying Belgian fund manager based in Singapore will escape the gallows after he pleaded guilty to killing his 5-year-old son by suffocating him with a cushion. Philippe Graffart who then tried to commit suicide by driving into a tunnel wall, now faces a maximum jail term of 10 years, fine, caning or a combination of them.
The Singapore High Court, which heard the accused plead guilty to the lesser charge on Monday 1 August, will sentence him on 22 August. Graffart, who was the head of fund distribution for the Asia-Pacific region with Nordea Investment Funds in Singapore, accepted the Attorney General Chambers' plea bargain offer to amend his murder charge to that of culpable homicide if he pleaded guilty.
Philippe Graffart was initially charged with causing the death of Keryan Gabriel Cedric Graffart at his 32nd storey apartment in Leedon Heights, Singapore, on 5 October 2015.
Graffart was in the midst of a custody battle with his French wife Gwendoline Graffart when he killed his son and tried to commit suicide. According to the Deputy Public Prosecutor Sharmila Sripathy-Shanaz, he had exchanged several e-mails with his lawyers about the custody battle on the day of the murder.
He killed his son a day before the Family Justice Courts was scheduled to hear Keryan's custody case. In an email to his lawyer, dated 5 October 2015, he wrote: "I am so tired of all this ... really tired. I want to ... end this nightmare. I cannot change the past but I can change the future ... I am so afraid to lose my son."
A psychiatric report stated that Graffart was suffering from major depressive disorder which "substantially impaired his thinking process and judgement ... leading to the death of his son."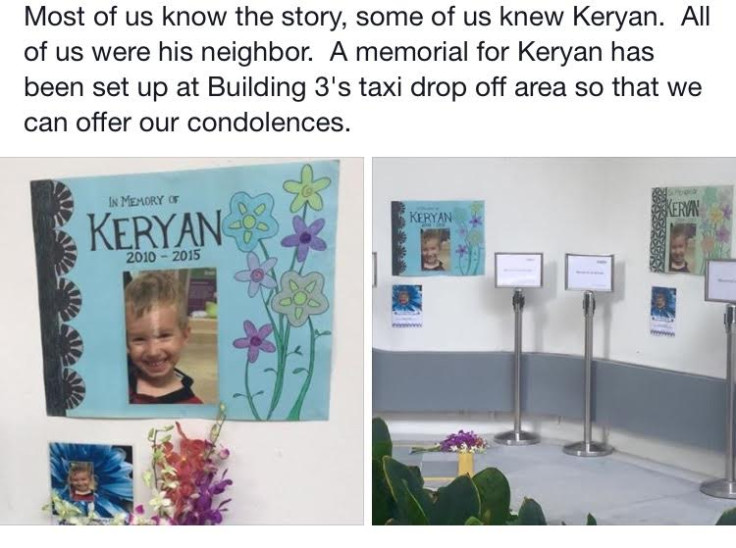 Events leading to Keryan's death
The court was told that on on the day in question, at about 8.20pm, Graffart searched the internet on how long it would take to suffocate someone and whether one could survive a car crash at 150kmh, Sripathy-Shanaz said.
He then read two bedtime stories to Keryan and let his son take an insomnia tablet Zolpidem, which is not recommended for use by children. Graffart, 42, had apparently prepared two tablets for himself but allowed Keryan to take the medication after he asked for one, thinking that they were vitamins.
The Belgian said that he cradled Keryan's body and told him that he loved him and was "going to join him" before leaving the apartment and attempting to crash his car into the wall of a tunnel along the Marina Coastal Expressway.
He had removed his seatbelt just before crashing the car but the the airbags were deployed, saving him. The fund manager was taken to the Singapore General Hospital with minor injuries. While at the hospital, he called the police and told them that he had tried to kill himself. Instead of waiting at the hospital, he took a taxi and returned to his apartment, where he considered other means of killing himself.
The court was told that he considered jumping off his balcony and stabbing himself but decided against them. He then went to the Bukit Timah Neighbourbood Police Centre at about 4.30am local time on 6 October.
A police officer on duty saw a disorientated Graffart trying to buy a drink from a vending machine outside the police station. He offered Graffart a S$2 note which Graffart used to buy a drink and walked away without collecting the change.
When questioned, he told the officer that he had tried to kill himself by crashing his car into a wall and added: "I have done something really bad to my son." Keryan was found on the bed in the master bedroom and pronounced dead by paramedics at 6.17am local time.
An autopsy found bruises and abrasions on the boy's head, the court heard. His cause of death was "unascertained ... [but] death due to suffocation ... cannot be ruled out."
Custody battle
According to the Singapore Straits Times, Graffart and his wife were undergoing divorce proceedings. The couple separated in 2014 and agreed to joint custody. However, when Gwendoline Graffart was diagnosed with breast cancer in July 2015, she wanted to return to France with full custody of Keryan, the court heard
On the afternoon of 5 October, Graffart had received an affidavit pertaining to care and custody proceedings and it contained transcripts of conversations between him and his wife which she had recorded.
The newspaper said that a Belgian Embassy representative was in court yesterday. A friend of Gwendoline Graffart told the newspaper that she is now back in France.