Singapore Grand Prix: Briton Yogvitam Pravin Dhokia identified as Marina Bay Street Circuit invader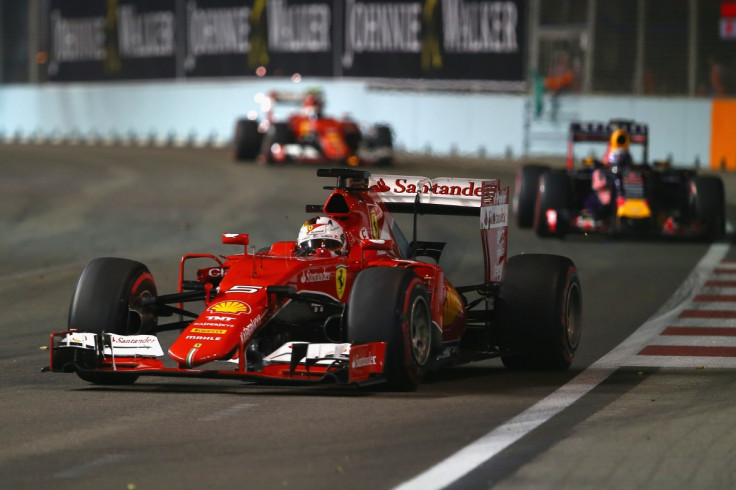 A Briton has been charged by a court in Singapore for walking on to the Marina Bay Street Circuit during the country's Grand Prix on 20 September. 27-year-old Yogvitam Pravin Dhokia has been charged with committing a rash act which endangered the safety of F1 drivers, who can reach speeds of up to 290kmh.
He appeared in court on Tuesday (22 September) where he was offered bail of SG$15,000 (£6,800). Dhokia told the court he was unable to meet the bond and so will be held until he next appears in court on 6 October, the Straits Times reported.
The International Automobile Federation said it is waiting for a full report on the incident after Dhokia clambered over the safety barrier on turn 13 of the Marina Bay Street Circuit on the Esplanade Bridge. Dhokia could be seen on CCTV footage calmly crossing the track, until he saw Sebastian Vettel's Ferrari come round the bend, at which point he clambered back over the barrier. To reach the cars he would have had to mount the chest-high barrier and then cross a 2 meter wide buffer area.
Drivers and promoters have expressed their dismay over the safety breach which put more than just Dhokia's own life in danger. Singapore racer Yuey Tan who is familiar with the circuit was quoted as saying: "If he (had entered the track) at a blind corner, he would have been smashed and killed. And with so many cars on the track going at speeds of 280kmh to 290kmh, so many other things could happen. Drivers could be hit by flying debris, or they could crash as they try to avoid each other as well as the man. It's important to figure out how it happened and make sure it doesn't occur again."
The Foreign and Commonwealth Office has said in statement that it is able to confirm the arrest of a British National in Singapore on 20th September and that staff stand ready to provide consular assistance.
© Copyright IBTimes 2023. All rights reserved.