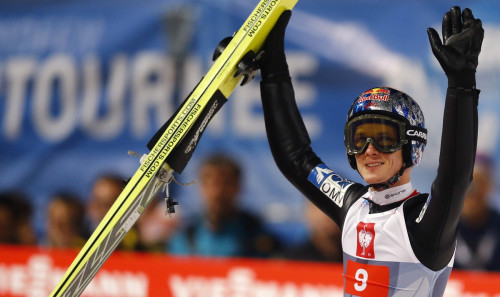 Austrian Olympic ski jump champion Thomas Morgenstern is in a stable condition after his second serious accident in the last two weeks.
The Austrian athlete, a leading gold medal hope for the Sochi games, was training in Kulm, Austria. During his second jump, his skis touched, causing him to lose balance in mid-air and land heavily on his back and head. He lost consciousness as he slid to the bottom of the ski slope.
He received immediate first aid and was flown by helicopter to a hospital in nearby Salzburg.
The 27-year-old was diagnosed with "serious skull injuries and a lung contusion," the Austrian ski federation said in a statement.
"Thomas Morgenstern is conscious and is speaking. He will remain under observation for another 72 hours in intensive care," it said.
The doctor treating him, Josef Obrist, was quoted by the Austria Press Agency as saying that Morgenstern's life was not in danger.
"We still have to analyse what took place on video," Austrian team coach Alexander Pointner told Austrian television station ORF.
On 15 December, Morgenstern was knocked unconscious after a crash in Titisee-Neustadt. He suffered cuts, bruises anda broken finger, but he recovered to finish second to fellow Austrian Thomas Diethart at the Four Hills Tournament in Bischofshofen last week.
Morgenstern won individual and team gold at the Turin Olympics and team gold in Vancouver four years later.
Morgenstern will be monitored in intensive care until at least Monday.
"He was responsive, Thomas can move arms and legs. That's very important," team physician Herbert Leitner told BBC News.