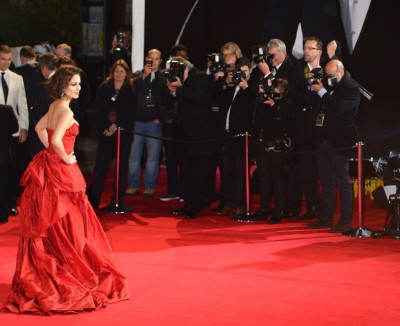 Stars of the latest James Bond film, Skyfall, have met with Prince Charles at the Royal Albert Hall for the premiere of the new 007 movie.
Daniel Craig, Javier Bardem, Judi Dench, Ralph Fiennes, Berenice Marlohe and Naomie Harris all arrived on the red carpet for the occasion. The premiere is being hosted by David Walliams.
Skyfall is the 23rd Bond film and critics have been hailing the new film, directed by Sam Mendes as one of the best, with James Bond returning to Ian Fleming's original British spy character.
Ralph Fiennes, who plays baddie Gareth Mallory, spoke to Walliams on the red carpet. He said: "I've worked with Sam [Mendes] before and he has a wonderful clarity of vision. The script is a great new take on Bond.
"I've been a Bond fan since I was a teenager. It was a thrill."
Dench, who reprised her role as M, joked about what it was like working with Craig. "He's hell. Complete hell."
She added: "He's totally dedicated, totally professional, totally James Bond."
Naomie Harris spoke to Walliams about her character in the film. According to the Mirror, she said: "Eve is Bad arse. She thinks she's a match for Bond at the beginning of the movie at least.
"I don't remember the first time I watched a Bond movie as I grew up watching them - this one could be my favourite though."