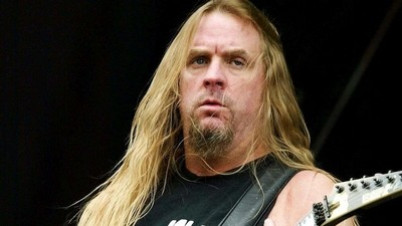 Slayer guitarist Jeff Hanneman has died aged 49 from liver failure.
The co-founder of the heavy metal band died in a California hospital after contracting necrotising fasciitis, a flesh-eating disease which attacks subcutaneous tissue, from a spider bite.
"Slayer is devastated to inform that their bandmate and brother, Jeff Hanneman, passed away near his southern California home," a statement on the band's Facebook page said.
"Hanneman was in an area hospital when he suffered liver failure."
On their website, his bandmates paid tribute to "Our brother Jeff Hanneman, may ge rest in peace (1964-2013)."
Hanneman founded Slayer with fellow guitarist Kerry King in the early 1980s in Los Angeles. The band was known as one of the "big four" thrash metal groups of the era along with Anthrax, Megadeth and Metallica.
Hanneman's life is said to have changed considerably after he was bitten by a spider in 2010.
He had been making progress with physiotherapy at the time of his death.
Fellow rock bands including Guns'n'Roses and Black Stone Cherry took to Twitter to pay tribute to the star.
Guns'n'Roses, said: "Tragic & shocking news about Jeff Hanneman. He is going to missed by so many. What a sad day for metal. RIP man."
"Our condolence to the entire @slayer family #RIPJeff."
Andrew WK said: "Jeff Hanneman will always be a metal god. A true master, he gave energy and excitement to millions, and will continue to."
Black Stone Cherry wrote: "RIP Jeff Hanneman of Slayer, we lost a good one."
Hanneman is survived by his wife Kathy, his sister and two brothers.