The son of a former Penn State football coach and convicted child sex abuser has himself been charged with child molestation. Jeffrey Sandusky, 41, faces 14 charges including corruption of minors and criminal solicitation. He was arraigned on Monday (13 February) in Bellefonte, Pennsylvania, with bail set at $200,000.
Police have accused Sandusky of sending inappropriate texts to a victim and requesting naked pictures, according to WTAJ-TV.
Lance Marshall, his defence lawyer explained the charges in full, which were statutory sexual assault, involuntary deviate sexual intercourse, six counts of unlawful contact with a minor and two counts each of photographing or depicting sexual acts, sexual abuse of children and corruption of minors.
If convicted, he could face 20 years in prison on the sexual assault of a minor charge under Pennsylvania state law.
Sandusky was suspended without pay on Monday from his job as a corrections officer at Rockview State Prison, near State College. He had been working there since August 2015, the state corrections department said.
Police started investigations in November 2016 after allegations that a child had received texts from Jeffrey Sandusky, including nude photographs. Sandusky reportedly told the alleged victim the texts "were not weird because he studied medicine".
The 41-year-old was dating the child's mother at the time, Pennsylvania State Police said in a local 10 news report.
The child's father informed police about the reportedly "explicit" text messages that were received by his son. The criminal complaint also states that a second child was also allegedly abused in 2013.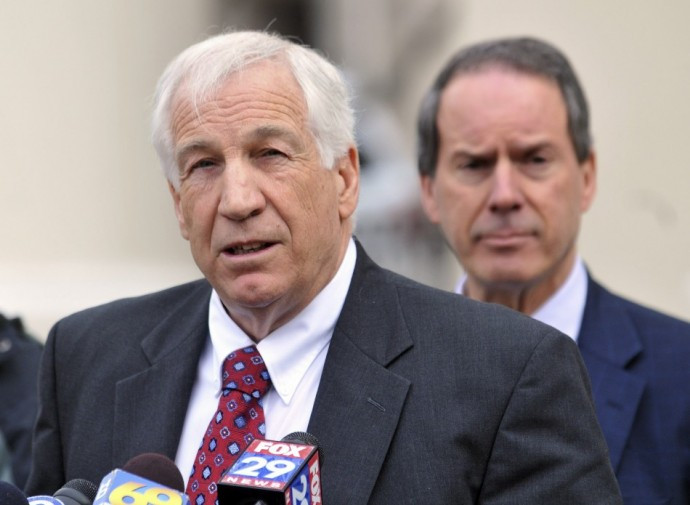 Sandusky's father, Jerry Sandusky, was found guilty in 2012 on 45 of 48 counts of sexually assaulting 10 boys over a period of 15 years and sentenced to between 30 and 60 years in prison. Jeffrey Sandusky, one of Jerry Sandusky's six adopted children, was often in court at his father's court appearances.
The Centre County district attorney's office said it planned to issue a statement later on Monday. The accused's brother, Matt Sandusky, told NBC News that if the allegations are true, "He deserves the maximum of whatever sentence the judge will give him."