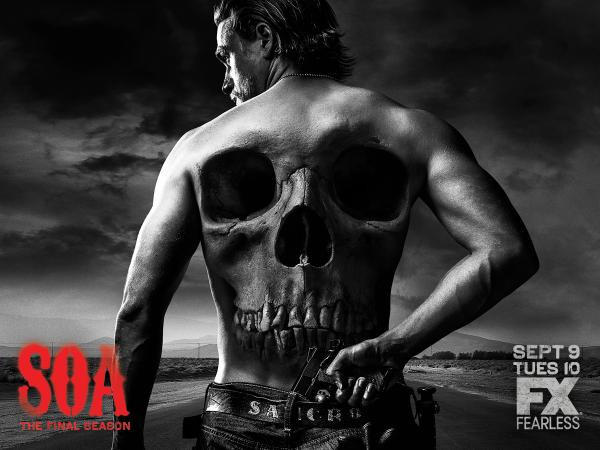 Sons of Anarchy Season 7's final ride has become everything about bloodshed, mayhem and Jax Teller's fury. However, innocent people are paying a heavy price with their lives during his journey of revenge.
It appears there is no end to the brutalities in Charming as club member Bobby has been kidnapped by Agustus Marks and his gang to retaliate the SMACRO president's killing spree.
The official synopsis of the next episode reads: "With the search for a missing member at a standstill, focus shifts to flushing out an internal rat."
Click here or here to watch SOA episode 8 'Separation of Crows' live stream online on FX networks.
Obsessed with the idea of revenge after his wife Tara's murder, Jax has almost forgotten the world around him, his children and his beloved club.
In the previous episode of FX's biker drama, Bobby went through immense pain at the hands of Marks and his gang as they literally gouged out his eyes and one of his eyeballs was sent to the SAMCRO president.
In the upcoming episode 'Separation of Crows', Tara's husband will have to keep aside his vengeance and think about his club and take a decision as Bobby's fate now lies in his hands.
"I would say Bobby is in mortal danger, and unless Jax does the absolutely right thing, bad things can happen to Bobby," series director Paris Barclay explained Bobby's situation to Entertainment Weekly.
"I'm hopeful Jax will make the right decision, but I am very, very concerned at this point. It all will depend on Jax."
Juice, on the other hand, is being questioned by Sheriiff Jarry (Annabeth Gish) and Unser about his possible involvement in Tara's murder.
Meanwhile, Gemma, the anchor of Charming's chaos will face problems at home as her grandchild Abel hears her murder confessions to Thomas.
Fans are suspecting that Abel, who is still reeling from the death of his mother, may kill Gemma.
More will happen when the Sons of Anarchy returns with episode 8 'Separation of Crows' on 28 October on FX network.