Sony Xperia Z3 Compact Review: What the iPhone 6 Could Have Been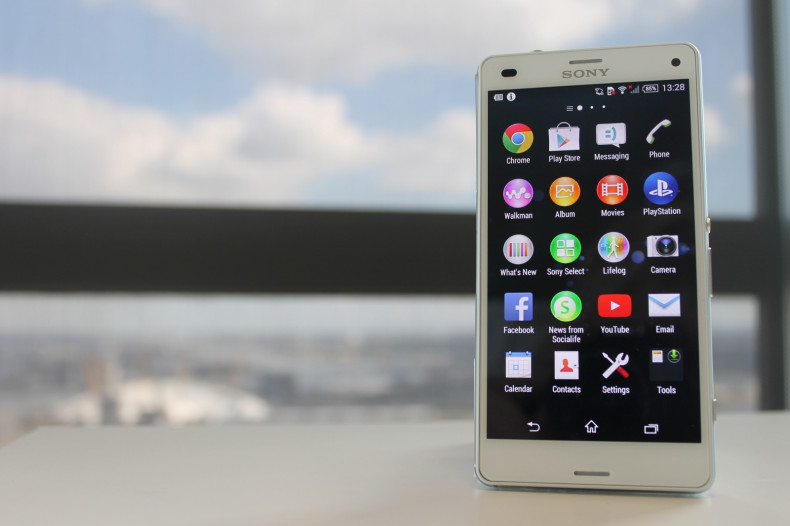 Key Features:
20.7 megapixel camera
4K video recording
Waterproof design
129g; 8.6mm thick
Price as Reviewed: £429
Sony Xperia Z3 Compact
Apple has finally buckled to market pressure by releasing the latest incarnation of the iPhone as two larger-screened devices - four years after Steve Jobs famously said that no one would want a big phone.
Unveiled within seven days of the iPhone 6 launch, Sony's Xperia Z3 Compact may have gone under many people's radar but is in fact ideally positioned to swoop in and sweep up dissatisfied Apple customers now being faced with the choice of upgrading to either a larger phone, or an even larger phone.
At roughly the same size as the iPhone 5, the Xperia Z3 Compact packs in impressive specs that rival - and even outperform in certain areas - the iPhone 6. But is it enough to sway the notoriously loyal Apple customers over to Android?
---
Xperia Z3 Compact: Design
---
Sony has continued with its "OmniBalance" design language that it uses throughout its Xperia smartphone and tablet range.
There are a few important changes that set it apart from its predecessor, the Xperia Z1 Compact (for some reason Sony decided to skip the Compact version of the Xperia Z2).
It has a slightly more rounded design that makes it more comfortable to hold, as well as transparent plastic sides that Sony claims offer improved shock-absorption properties.

It is a strong build quality and solid design that is reinforced by the knowledge that it is both water and dust resistant. While some may still see this as more of a gimmick than anything else, it seems that more and more people are viewing this as an important and practical feature.
One complaint from the Z1 Compact was the fiddly nature of the port covers that protect the smartphone from dust and water. This time round there can be few grumbles with an easier-to-open design.
---
Xperia Z3 Compact: Screen
---
One of the most noticeable differences between the Z3 Compact and the Z1 Compact is the size of the screen. This isn't to say that the phone is any bigger than its predecessor, but Sony have managed to squeeze more screen onto the device - enlarging it from 4.3 inches to 4.6 inches.
Amazingly, considering the difference in size between the two phones, the Z3 Compact's screen is just 0.1 inches smaller than the much-larger HTC One.
One slight downside is that Sony has not improved on is the 720p resolution for the Z3 Compact, nor has it improved on the Gorilla Glass 3 that protects it.
However, much like with its camera department, Sony has borrowed from its TV section to introduce impressive technology into its smartphone. The Triluminos and X-reality display means the image quality is much higher than the numbers alone might suggest.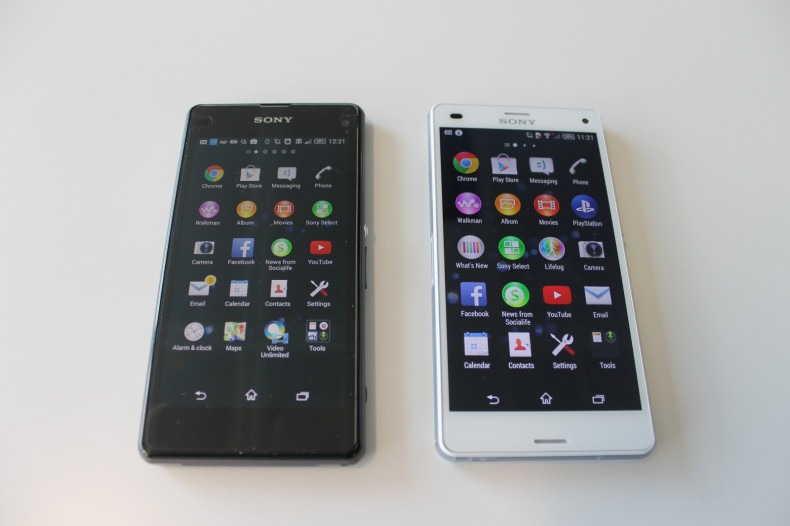 ---
Xperia Z3 Compact: Software
---
The Z3 Compact arrives with the latest Android 4.4.4 KitKat software, which Sony has customised with a familiar skin found on most recent Xperia phones.
Many of the widgets included on the homescreen are more-or-less superfluous for day-to-day use, though can be easily got rid of.
There is also quite a focus on health that might not appeal to some users, with the LifeLog application. Much like many other flagship devices from the likes of Samsung and Apple, Sony are hoping that a companion smartwatch or fitness band will be used alongside the Z3.
As well as fitness fanatics, Sony has gamers covered with the ability to play Playstation 4 games through the smartphone. Without an actual PS4 at my disposal, judgment of this feature will have to be saved for a later date.
---
Xperia Z3 Compact: Hardware
---
In terms of performance, the Z3 Compact has been rightly described by some reviewers as a "pocket rocket".
The handset offers the same power and specs as its bigger brother, the Xperia Z3, meaning customers choosing between a larger and smaller-screened device do not have to compromise.
It uses a 2.5GHz Snapdragon 801 that isn't a drastic departure from the Snapdragon 800 of its predecessor but it does improve on the device's power-saving capabilities.
Other hardware improvements can be found in the camera department, with a better image signal processor enabled by the Snapdragon 801.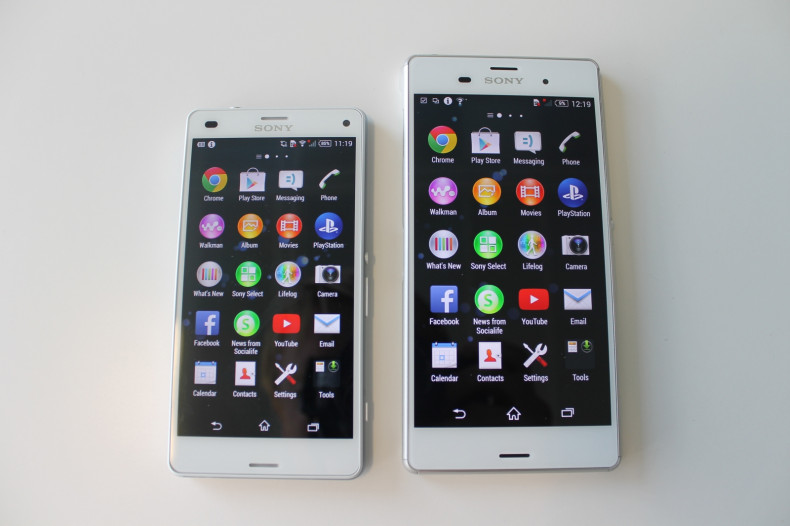 ---
Xperia Z3 Compact: Camera
---
Using Sony's in-house camera technology, the Xperia range has benefitted from one of the best performing smartphone cameras on the market.
Its 20.7 megapixel camera sensor is the same as the Xperia Z1 Compact - there really isn't much need to cram in any extra megapixels beyond this point - but improvements have been made in other areas.
In low-light conditions, the camera's performance is markedly better as the maximum ISO sensitivity setting has been boosted from 6,400 to 12,800.

It also now offers video in 4K, though when you enter this mode a warning comes up saying that due to over-heating, the recording may stop at any moment. Putting it to the test, the 4K recording mode lasted just over 10 minutes before it stopped itself.
---
Xperia Z3 Compact: Battery
---
One of the most impressive features of the Xperia Z1 Compact was the battery life - easily running for a day and a half under normal usage and stretching to three or four days with light use.
Officially, the Z3 Compact can now last for two days, though under testing the phone lasted a full three days of moderate use with still a bit of juice left in its tank.
A new "Ultra Stamina" mode now allows the smartphone to run for an entire week on just a single charge.
---
Xperia Z3 Compact: Price and conclusion
---
The Sony Xperia Z3 Compact comes less than a year after the release of the Xperia Z1 Compact. Despite this short period of time, Sony has still managed to offer a significantly improved device.
At £429 it is the same price as the Z1 Compact when it first came out and only £30 more than the older device currently listed by Sony.
While owners of the Z1 Compact may think it is too soon to upgrade, there is another market that Sony will be hoping to catch the eye of.
The Z3 Compact fills the gap that Apple left by not releasing a smaller version of the iPhone 6 and could well capture a swathe of iPhone users looking for a powerful and supremely-built phone that can still fit easily in your pocket.
It is the only Android smartphone of its size that offers the specs it does and would be a logical upgrade to the iPhone 5. Whether it can convert the Apple disciples, however, is yet to be seen.
Scores:
Screen: 9/10 - Squeezing in an impressive amount of screen for a small device
Design: 10/10 - Premium design that's also both waterproof and dustproof
Software: 8/10 - Something for gamers and fitness fanatics alike
Camera: 10/10 - Improving on what was already the best smartphone camera on the market (forgetting the hybrid Lumia 1020 camera-phone)
Value: 9/10 - £30 cheaper than the old iPhone 5s, despite Apple's drastic price cuts
Overall: 9.5/10 - Hands-down the best one-handed smartphone there is.
The Good
Great design and build quality
Unrivalled in terms of size and weight
Impressive battery life and camera
Decent performance (even under water)
The Bad
Comes too soon after the release of the Z1 Compact