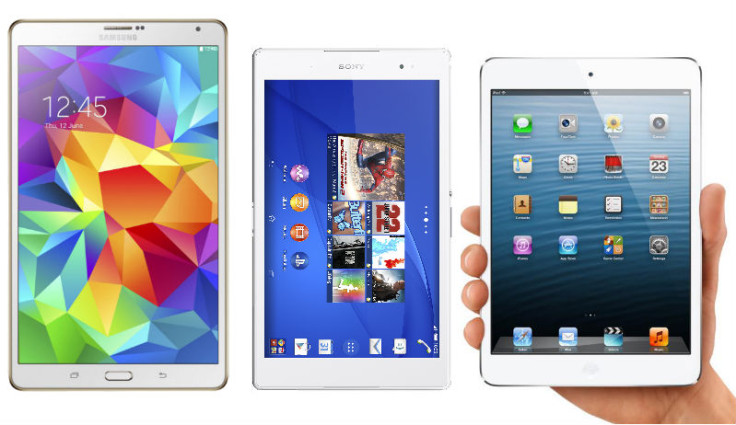 Sony has launched a lot of new products at IFA this week in Germany, but the most interesting is its entry into the compact tablet market, one currently dominated by Apple's iPad mini and Samsung's Galaxy Tab S.
First, let's clear something up. While the Galaxy Tab S (8.4) is far from being an elegant name, it is still a lot better than Sony's Xperia Z3 Tablet Compact. So already Sony has a fight on its hands.
Here we compare the Xperia Z3 Tablet Compact against its two main rivals in the premium 8in tablet market to see if Sony has produced a tablet which is worth spending your money on:
---
Design
---
The Xperia Z3 Tablet Compact has usurped Samsung but producing an even thinner tablet, at just 6.4mm and weighing just 270g. The tablet follows the same design aesthetic as the company's flagship smartphones and the larger Xperia Z1 Tablet - which is definitely not a bad thing.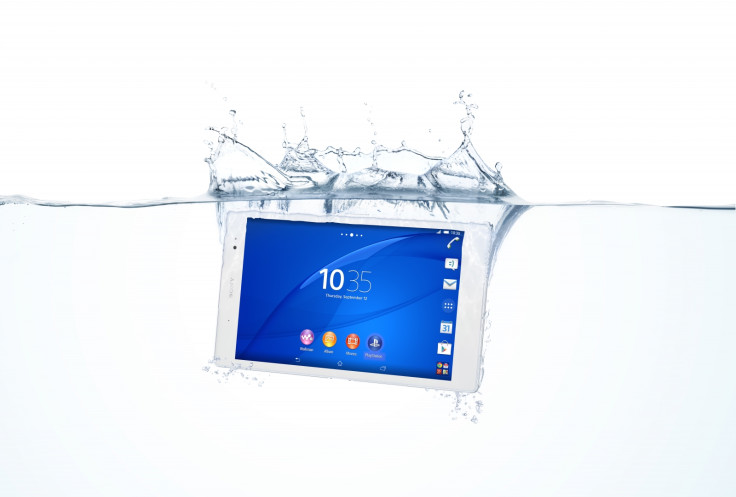 The Galaxy Tab S is a slim, sleek, lightweight tablet and at just 6.6mm it is thinner than the iPad mini 2 (7.5mm) and at 294g is significantly lighter than Apple's small tablet (331g).
The iPad mini 2 certainly feels more premium with its all-metal chassis, but the Galaxy Tab S and the Xperia Z3 Tablet Compact are not too far behind, with Samsung eschewing the plastic feel of its other tablets.
The dimpled rear on the Galaxy Tab S and smooth matte plastic cover on the Z3 may not be to everyone's taste, but they offers something different to Apple's polished metal finish.
---
Screen
---
The Xperia Z3 Tablet Compact features an 8in display with a resolution of 1920 x 1200, giving the tablet a pixel density of 283 pixels per inch (ppi), well down on Samsung's and Apple's offerings.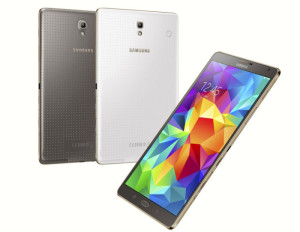 Sony says it hasn't put a higher resolution screen on the Xperia Z3 Tablet Compact as it doesn't believe consumers would notice, and it will extend battery life.
The Galaxy Tab S screen on the other hand has a resolution of 2560 x 1600, giving it a pixel density of 360ppi which is slightly higher than the 324ppi on the iPad.
Of course that's not the only difference in the screens. First up is size - the Galaxy Tab S is the largest with a 8.4in screen, while the Z3 has an 8in screen, and the iPad mini 2 has a 7.9in screen.
Next is aspect ratio. The iPad mini 2's screen has a 4:3 aspect ratio while the Xperia Z3 and Galaxy Tab S have a 16:9 aspect ratio, which is more conducive to watching videos.
Finally, Samsung says its screen, which it claims is the "world's greatest tablet screen", can reproduce 97% of the Adobe RGB colour coverage, whereas the Retina display on the iPad can only manage around 70%.
---
Hardware
---
The Xperia Z3 Tablet Compact is powered by the Qualcomm Snapdragon 801 chipset which is paired with 3GB of RAM. It only comes in one version with 16GB of storage, but a microSD card can add up to 128GB extra.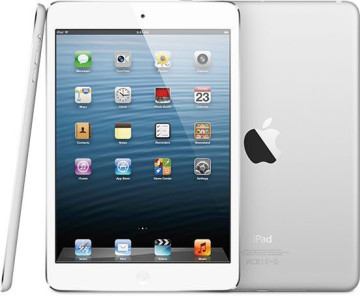 The Galaxy Tab S comes with Samsung's own powerful octa-core Exynos 5 processor which is also backed with 3GB of RAM. There are 16GB and 32GB versions and a microSD card slot lets you add up to 128GB more.
The Galaxy Tab also has a fingerprint scanner, support for the faster Wi-Fi AC standard and like the Xperia Z3 Tablet Compact, there is a 4G version available.
The iPad mini features Apple's A7 chip along with the M7 co-processor to help power efficiency, and the tablet is available in 16GB, 32GB, 64GB and 128GB versions but there is no microSD card slot.
Apple has yet to bring the iPhone's fingerprint scanner to the iPad and there is no Wi-Fi AC support. There is however 4G versions available.
Battery life on the iPad mini 2 and Tab S is around 10 hours and Sony is claiming something up to 15 hours of video playback from the Z3 Tablet Compact.
---
Software
---
The Z3 Tablet Compact will ship with Android 4.4 (KitKat) which has been skinned with Sony's own software which isn't too intrusive but does heavily promote its own film, music and games stores.
The Z3 Tablet Compact will also offer one huge benefit over rivals with the ability to play PS4 games wirelessly on your tablet, a feature only available initially on the Z3 family of devices.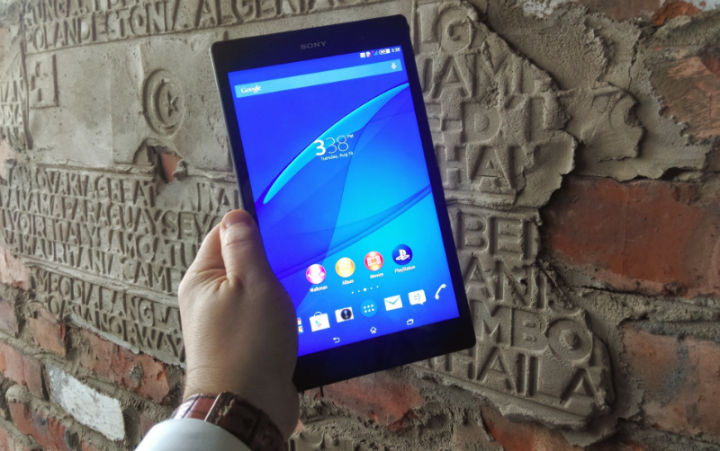 The Galaxy Tab S runs Android 4.4 (KitKat) which has been heavily skinned with Samsung's own TouchWiz interface which many don't like, but which has been improved on in the last 12 months.
As well as the huge amount of interface tweaks made by Samsung, the company has also added tablet specific content including football-focused app Kick, the Flipboard-like Papergarden service as well as content from Marvel comics and a specially built version of the Kindle app. There is also a children's mode and a multi-user feature.
Apple's iPad mini 2 of course runs iOS 7 and will be updated to iOS 8 sometime this autumn. As well as meaning great performance, iOS also has a huge amount of tablet specific apps unlike Android.
---
Price
---
Sony has yet to announce the pricing for the Xperia Z3 Tablet Compact but considering the 10in Xperia Z2 Tablet cost £399 at launch, we wouldn't be surprised to see the Compact cost £299.
With both the Galaxy Tab S and iPad mini 2 costing £319, it could be an opportunity for Sony to get an advantage on the competition.
Looking at connected options, iPad mini 2 with 4G costs £419 while the Galaxy Tab S with 4G costs slightly less at £399.
---
Which to buy?
---
Sony has entered a market which is highly competitive but with a sleek and lightweight design along with the unique ability to stream and play PS4 games on your tablet, it will certainly be a challenger to the two tablets currently dominating the market.
Earlier this year Samsung finally gave consumers something to think about with the Tab S taking on the iPad mini at the high-end of the market.
The iPad mini 2 has a much better array of tablet-focused apps available and uses more premium materials.
On the other hand, the Galaxy Tab S has the sharpest screen of all three tablets and if you like your screens bright and vibrant, then this is the tablet for you.