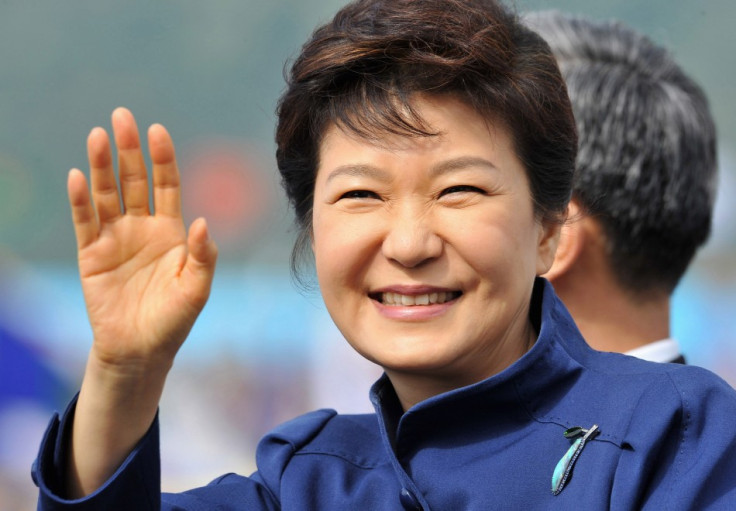 South Korean President Park Geun-hye says that she is ready to meet the North's leader Kim Jong-un "without any conditions" and the country's nuclear weapons programme will not be an obstacle in holding a summit.
While Park has said there will be no preconditions on holding the summit, she warned the North to drop its nuclear pursuit so as to achieve an "eventual unification."
In a televised news conference aired on Monday (12 January), Park issued a warning that Kim "should drop his nuclear pursuit in order to achieve an eventual unification", Bloomberg reported.
The two countries last held a summit in 2007.
North Korea has complicated relations on the Korean peninsula, after it went ahead with its nuclear weapons development programme, and threatening the South.
However, in October last year, Kim Jong-un sent three of his close aides to meet Park's chief security adviser, signifying an easing of tensions between the two neighbours.
Meanwhile, Yang Moo Jin, a professor at the University of North Korean Studies in Seoul told Bloomberg: "Park tried not to anger the North, refraining from mentioning its human rights problems and poor living conditions or criticizing the regime directly."
"At the same time, she isn't offering a fresh alternative that could allow the South to take the lead in improving relations."
This is not the first time that the South Korean President has urged the North's leader to join in dialogue. Last week, she had said: "I hope North Korea rapidly come to the table for the inter-Korean dialogue and cooperation and have an actual consultation about peace of the peninsula and detailed projects for unification," Xinhua quoted Park as saying during the year's first cabinet meet.
South Korea had proposed in late December that the two Koreas should hold ministerial-level talks in January to discuss bilateral issues such as the reunion of families who were separated by the 1950-53 Korean War, Yonhap News Agency reported.