The US has accused South Sudan of carrying out "deliberate starvation tactics" and hindering humanitarian help in the war-torn country. Earlier this year, South Sudan and the UN declared a famine in the country's Unity state, where 100,000 people are at risk of starvation.
Millions across the country are facing food shortages due to a drought and prolonged insecurity driven by a civil war erupted in 2013.
"The famine is not a result of drought, it is the result of leaders more interested in political power and personal gain than in stopping violence and allowing humanitarian access," Deputy US Ambassador Michele Sison told the UN Security Council, according to Reuters.
She made the claims weeks after South Sudanese government increased work-permit fees for foreign aid workers from $100 to $10,000.
"The government's continued unconscionable impediments to humanitarians seeking access to famine-stricken populations may amount to deliberate starvation tactics," Sison continued.
However, Russian Deputy UN Ambassador Petr Illichev disagreed, claiming the famine was "linked not just to problems with security, but also with inclement weather conditions."
South Sudan Deputy Ambassador, Joseph Mourn Majak Ngor Malok, also rejected claims the government was to blame for the famine. "It [the government] will spare no efforts to help address the situation and calls upon the international community to assist in addressing this urgent matter," he said.
The UN has repeatedly accused South Sudan of ignoring the famine-stricken population, something Juba denies.
In its latest statement, the Security Council said it was "deeply concerned about the actions of all parties to the conflict that are perpetuating the humanitarian crisis."
Last year, the council proposed an arms embargo in South Sudan, which was not implemented as it was vetoed by both Russia and Japan. The council also blacklisted three generals from each side of the conflict by subjecting them to an asset freeze and travel ban.
The South Sudanese government maintains it is committed to respecting a peace deal signed in 2015 that aims to end the bitter civil war. The leadership has always rejected allegations of human rights abuses and denied allegations that the army targets civilians.
South Sudan conflict explained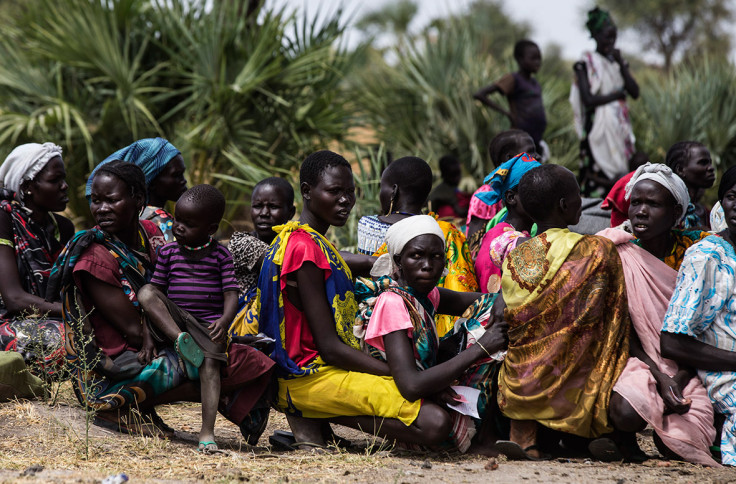 The South Sudan conflict erupted in 2013 when President Salva Kiir, of the Dinka ethnic group, fired his deputy Riek Machar – from the Nuer group – who then became a rebel leader.
Ethnic-related violence targeting Dinka and Nuer peoples has killed an estimated 50,000, amid allegations of crimes against humanity committed by both sides, including rape, torture and the use of child soldiers.
At least 1.5m people have fled to other countries. The exodus has been deemed "Africa's worst refugee crisis". More than 2m are internally displaced.
Kiir and Machar have agreed on several peace deals – the last of which was signed in August 2015 – but have failed to control their troops, who have broken every ceasefire since 2014.
Machar is currently in South Africa seeking medical treatment but, in an exclusive talk with IBTimes UK, he said he was ready "to go home".
His wife, Angelina Teny, also a member of the opposition SPLM-IO, told IBTimes UK she believes her husband can contribute to achieving peace in the war-torn nation which is on the verge of a Rwanda-style genocide.