At least 136 people have now starved to death in Somalia since the beginning of March. The country has been ravaged by a drought which, coupled with long-standing insecurity, is threatening the lives of half the population, 6.2 million people.
At least 26 people died of hunger in the semi-autonomous southern region of Jubbaland in a day and a half, the government-owned Radio Mogadishu quoted an official as saying.
"The people in those areas need emergency assistance," Mohamed Hussein, the Jubbaland assistant minister of interior, said. Residents claimed most of the affected towns in the area were controlled by al-Shabaab terror group.
Earlier this month, another 110 people died from hunger in Somalia, which is on the brink of another famine, just six years after some 260,000 people starved to death in the East African nation.
Two consecutive seasons of poor rainfall have resulted in severe water shortages, a drop in food production, livestock deaths and rising costs of food.
Persisting insecurity and travel restrictions – imposed throughout Mogadishu due to possible attacks by Shabaab militants – have resulted in the escalation of food prices and a drop in supplies, meaning that people do not have access to basic goods to cope with the ongoing crisis.
Lack of food is forcing people to relocate to other areas of the country or even to other countries, such as Kenya and Ethiopia, also affected by the drought.
Looming famine in East Africa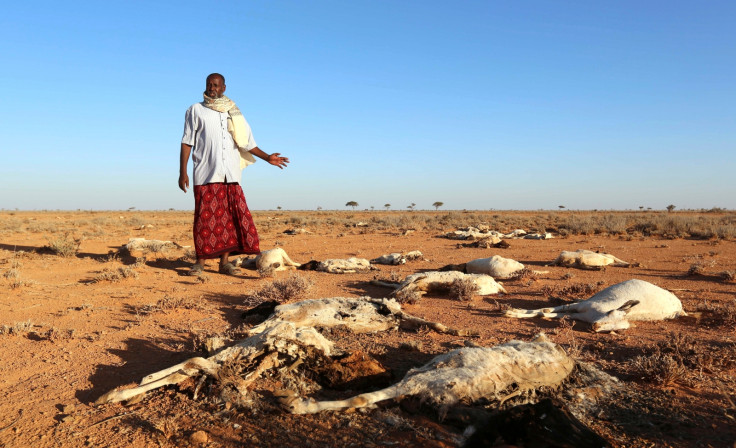 Earlier this month, the Disasters Emergency Committee (DEC) in the UK launched an East Africa Crisis Appeal as at least 16 million people are facing hunger in Somalia, South Sudan, Kenya and Ethiopia.
Leading UK aid agencies, including World Vision, Islamic Relief and Save the Children, announced a joint fundraising appeal to help millions of people who are in urgent need of food, clean water and medical treatment.
The UK government said it will match pound for pound the first £10m donated by the public to DEC's East Africa Crisis Appeal.
"In 2017, we face an unprecedented challenge with millions of people stalked by the scourge of famine. Britain has acted without hesitation – UK aid funded food, water and emergency healthcare is being delivered across East Africa right now, but more support is urgently needed to prevent a catastrophe," International Development Secretary Priti Patel said.
The appeal was launched weeks after South Sudan became the first country to declare a famine since 2011. The famine has been linked to a prolonged civil war that has killed thousands and displaced millions since 2013. At least 100,000 people are facing starvation in Unity State – in the upper Nile region – and millions across the country are plagued by food insecurity.
More than 13 million people are currently in need of food assistance in Ethiopia – one of the countries worst hit by the drought – amid fears the number will increase.
At least 2.7 million people have also been affected in drought-ravaged Kenya, where tensions over control of water have become violent.