The South Sudanese government has increased work permits fees for foreign nationals from $100 (£92) to $10,000. The announcement was made days after the country declared a famine in parts of Unity State.
A joint statement issued by the Labour, Interior and Finance ministries in the capital Juba said the move aimed to generate additional revenues to fill the gap in the 2016 / 2017 national budget, according to the Sudan Tribune news site.
Under the new directive, foreign nationals working as professional and or business class will have to pay $10,000, blue-class workers $2,000 and casual workers $1000.
Some are seeing the move as a way to reduce the influx of foreign aid workers in the country.
Last year, Juba was criticised after parliament passed a Non-Governmental Organisations (NGO) bill that limited foreign-aid workers in the country, where a civil war has been ongoing since 2013.
According to the draft law, no more than a fifth foreign aid workers would be allowed to work in the country and at least 80% of the staff employed by NGOs would have to be South Sudanese.
Julien Schopp, director for Humanitarian Practice at InterAction, an alliance of 180 NGOs, said humanitarian organisations will not be able to afford the new fees.
"If NGOs go to their institutional donors to request that extra money, I'm pretty sure that [the donors] will be reluctant to pay this because they will see this to some extent as ransom," he was quoted by NPR news site as saying.
However, the presidency has dismissed the allegations.
"Work permit is a routine," President Salva Kiir's press secretary, Ateny Wek Ateny, was quoted as saying.
"Any country in the world has a right to impose work permits on foreigners. If you can't pay $10,000, then you hire a local person instead. Is there any country in the world that does not have regulation for foreigners. Instead the government of South Sudan was asleep and it has now woken up," he said.
Sarah Pickwick, senior conflict adviser for World Vision, told IBTimes UK:"Whilst we can't comment on the fees at this stage, we remain committed to helping people suffering from famine and other humanitarian needs in South Sudan."
South Sudan's war blamed for famine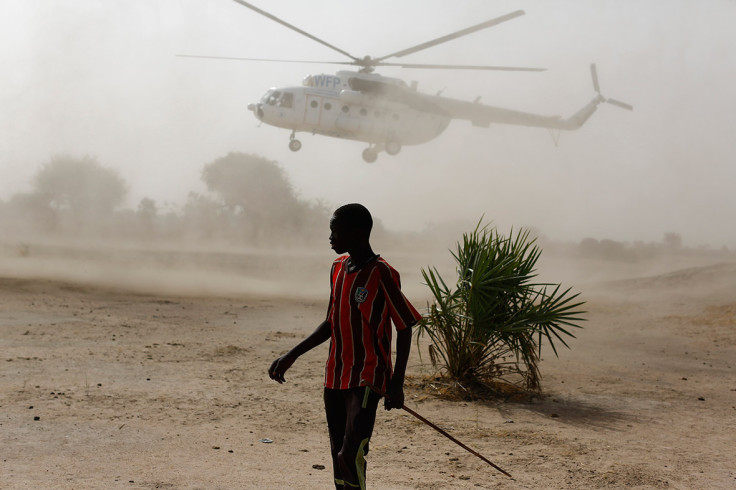 At least 100,000 people are facing starvation in Unity State – in the upper Nile region – and millions across the country are affected by food insecurity.
The South Sudan conflict erupted in 2013 when President Salva Kiir, of the Dinka ethnic group, fired his deputy Riek Machar – from the Nuer group – who then became a rebel leader.
Ethnic-related violence targeting Dinka and Nuer has killed an estimated 50,000 people, amid allegations of crimes against humanity committed by both sides, including rape, torture and the use of child soldiers.
At least 1.5m people have fled to other countries. The exodus has been deemed "Africa's worst refugee crisis".
More than 2m are internally displaced as the country is on the verge of a Rwanda-style genocide.
People are fleeing violence leaving their crops to rot in the fields. In addition, the heavy rainy season has made some roads inaccessible, hindering food deliverance.
Many fear hunger will deepen as the conflict has spilled into the Equatoria region, considered one of South Sudan's breadbaskets.
The UN has now appealed for $1.6 bn (£1.2bn) to provide lifesaving assistance and protection to 5.8 million people across the country.
Kiir and Machar have agreed on several peace deals – the last of which was signed in August 2015 – but have failed to control their troops, who have broken every ceasefire since 2014.
Machar fled South Sudan following deadly fighting in the capital Juba in July 2016.
He is currently in South Africa seeking medical treatment but, in an exclusive talk with IBTimes UK, Machar said he was ready "to go home".
His wife, Angelina Teny, also a member of SPLM-IO, told IBTimes UK she believes her husband can contribute to achieving peace in the war-torn nation which is on the verge of a Rwanda-style genocide.