South Sudanese rebels want foreigners out of the country, a Pakistani oil worker who was kidnapped and then released by militants, has said. Ayaz Hussein Jamali was freed along with Indians Midhun Ganesh and Edward Ambrose.
The three, who worked for DAR Petroleum, were abducted in separate incidents earlier in March by the Sudan People's Liberation Army-In Opposition (SPLA-IO), loyal to former vice president and current rebel leader Riek Machar.
The oil workers were brought to Sudan's capital Khartoum in a special aircraft from Ethiopia on Thursday (30 March).
"They kidnapped us in order to tell the international community that foreigners should leave South Sudan," Jamali told reporters at the airport in Khartoum, according to AFP. "The rebels want to shut down all oil processing plants in South Sudan."
The three added they had not been tortured or ill-treated by the abductors. It is believed the oil workers were kidnapped after being accused of working for the government, whose forces have been fighting rebels since a civil war broke in 2013. Earlier in March, Machar ordered the rebels to free the hostages, according to the South Sudan News Agency.
Sudan's National Intelligence and Security Service (NISS) confirmed the hostages had been freed following coordinated efforts by several governments.
"Following requests from Indian and Pakistani governments, the Sudanese and Ethiopian governments coordinated together to secure the release of the three oil workers," NISS said in a statement.
It is not clear whether a ransom was paid to secure the release. Earlier this month, South Sudan said it would not pay a $1m (£0.8m) ransom requested by the abductors to free the two Indian oil workers.
Following the kidnapping, South Sudan's transitional government also called for the blacklisting of Machar, who is currently in South Africa. The rebel leader fled Juba last year following fighting that killed hundreds. He told IBTimes UK in an exclusive interview that he was ready "to go home."
Attacks on foreigners
Earlier in March, seven aid workers – four of whom were Kenyans – were killed in an ambush as they were travelling from Juba to the town of Pibor. No-one has yet claimed responsibility for the killing.
In a separate incident, the rebels were blamed for the abduction of eight humanitarian workers from US charity Samaritan's Purse. Reports claimed fighters demanded aid deliveries as ransom. However, the workers were then freed with Samaritan's Purse denying a request for ransom had been put forward.
The kidnapping, coupled with Juba's decision to charge aid workers $10,000 for visas, could hinder humanitarian work in the country, which recently declared a famine in parts of Unity State in the upper Nile region.
At least 100,000 people are facing starvation and millions across the country are affected by food insecurity.
However, some organisation have told IBTimes UK they intend to continue with their operation in spite of the spate of killings and kidnappings.
South Sudan war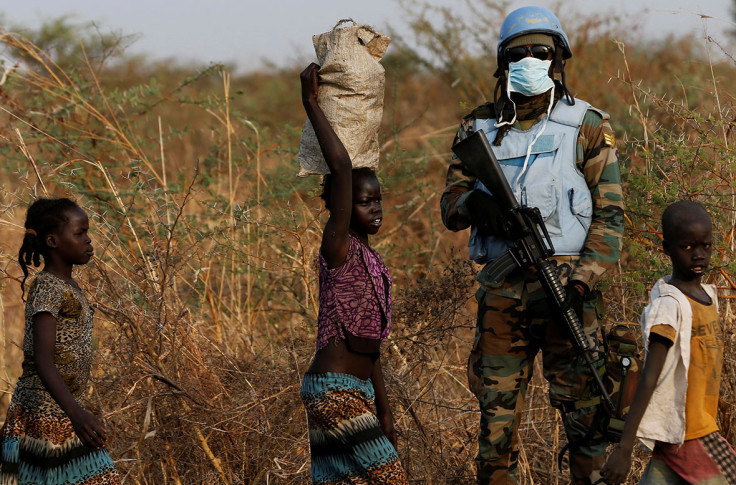 The South Sudan conflict erupted in 2013 when President Salva Kiir, of the Dinka ethnic group, fired his deputy Machar – from the Nuer group – who then became a rebel leader.
Ethnic-related violence targeting Dinka and Nuer peoples has killed an estimated 50,000, amid allegations of crimes against humanity committed by both sides, including rape, torture and the use of child soldiers.
At least 1.5m people have fled to other countries. The exodus has been deemed "Africa's worst refugee crisis". More than 2 million are internally displaced.
Kiir and Machar have agreed on several peace deals – the last of which was signed in August 2015 – but have failed to control their troops, who have broken every ceasefire since 2014.