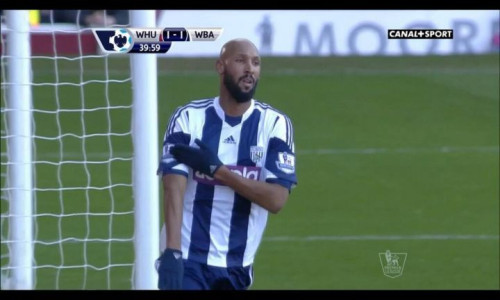 West Bromwich Albion's sponsor Zoopla has said it will drop the club if French striker Nicholas Anelka takes to the field for the club again.
The property website, whose co-owner Alex Chesterman is Jewish, has said that if Anelka plays against Everton on Monday, it will end its lucrative sponsorship deal with the club.
The ultimatum comes as the FA investigate the striker for celebrating after scoring against West Ham on 28 December by making a 'quenelle' salute, which is described by Jewish groups as a reverse Nazi salute and is widely interpreted as anti-Semitic.
Anelka said he made his gesture is support of comedian Dieudonne M'bala M'bala, who denies being anti-Semitic but whose act has been banned in towns and cities across France for inciting hatred of Jews.
Since the incident at Upton Park, Anelka has started both of West Brom's Premier League matches.
The firm's two-year £3 million deal is set to run until the summer, but reluctant to have sponsors dictate team selection, West Brom are believed to be lining up new corporate backers.
If found guilty by the FA next week, Anelka faces a lengthy ban, with the club facing the loss of two strikers in a week after the £7 million sale of Shane Long to Hull City on Friday.
Zoopla is understood to have been baffled by West Brom's decision to keep Anelka in the side while the investigation into his conduct was ongoing.