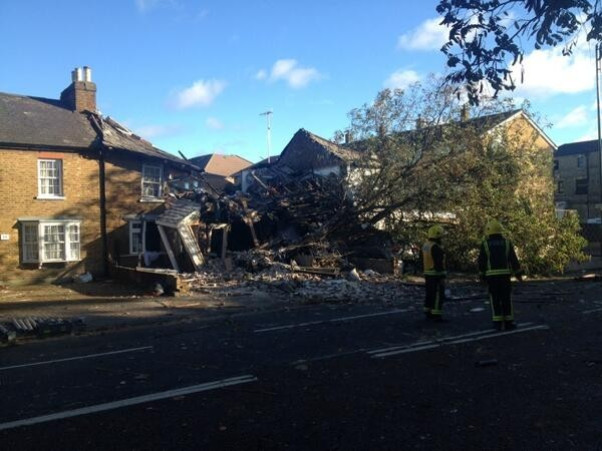 Two people are feared trapped in rubble after a gas explosion, called by gale-force winds sweeping across the country, destroyed three homes in Hounslow, west London.
A tree brought down by the storm, which has affected most of southern England, was believed to have ruptured a gas main in west London and led to the explosion.
Three people escaped from the houses before fire crews arrived. An elderly woman was taken to hospital but her condition was not known.
Twelve people were evacuated from surrounding buildings as a precaution but two people are unaccounted for, raising fears that they may have been trapped in the debris following the explosion.
Sniffer dogs were at the scene as part of attempts to find the missing people.
Update: Man and Woman Found Dead Following Hounslow Gas Explosion
London Fire Brigade station manager Matt Burrows said: "When I arrived I was greeted by a scene of utter devastation and three houses had been completely destroyed. Debris was scattered over an area of about 50 metres and the roof of one of the houses was in a tree across the road.
"We're still investigating whether the fallen tree caused the gas explosion or whether the gas explosion caused the tree to fall. It's likely firefighters will be on scene for much of the rest of the day.
"We have had reports two people trapped but we don't know for certain yet."
Six fire engines and more than 20 firefighters were still at the scene.
Two people have died as a result of falling trees after the St Jude storm battered parts of Britain. A 17-year-old girl died after a falling tree killed her in her sleep in Kent. A 50-year-old man has been killed in Watford after a tree fell on his car.
The storm caused travel chaos across southern Britain, with many rail services being forced to cancel during morning services.
More than 270,000 homes were also left without power as the strong winds caused power cuts South West, South, South East, the Midlands and the East of England.
The Enviroment Agency has also issued 12 flood warnings - meaning flooding is expected - across eastern, the Midlands and south western areas of England.
They have also issued more than 120 flood alerts - where flooding is possible - across most of England and Wales.
READ:
UK Superstorm 2013: Kent Girl, 17, Killed in Sleep by Falling Tree as St Jude's Death Toll Rises
UK Weather Transport Chaos: 50% of England Paralysed
UK 2013 Superstorm St Jude: How To Make an Insurance Claim
UK Superstorm: St Jude Leaves Trail of Destruction [PHOTOS]