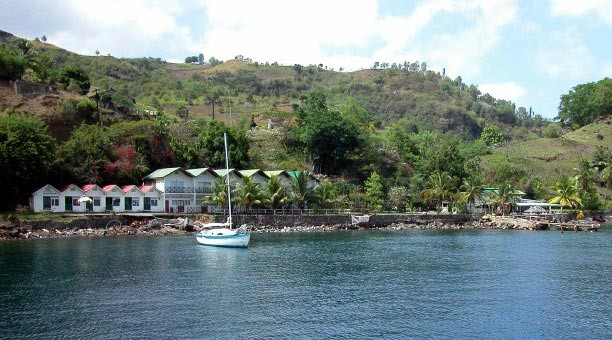 A German man has been killed by pirates in the St Vincent bay where scenes from Hollywood blockbuster Pirates of the Caribbean were filmed.
The German Foreign Office has confirmed that a German national was killed, and another injured in an incident on the self-governing island, south of St Lucia and north of Grenada.
Citing unnamed sources, Barbados Today reported that two armed assailants boarded a yacht anchored in Wallilabou Bay at 1.35am on March 4, fatally injured a man, and injured the boat's captain... before making off with stolen credit cards and cash.
Bayerische Rundfunk (BR) identified the man killed as Martin G from Sennfeld, Bavaria, and said he had been fatally wounded by gunshots to the neck. The 48-year-old's wife and two children, aged 19 and 17, were among the 10 people on the yacht at the time of the attack, and have been flown back to Germany, reported BR, citing German police sources.
The captain was wounded in the shoulder, reported BR.
Wallilabou Bay in the southeast of the island is one of St Vincent's most popular attractions, and was one of the principal filming locations for the 2003 Disney film Pirates of the Caribbean, starring Johnny Depp, Orlando Bloom, and Keira Knightley. Much of the original film set has been left intact as a tourist attraction.
In the wake of the attack, St Vincent premier Raplh Gonsalves expressed "revulsion" at the incident. "This is a terrible, terrible stain on our country; and this criminal act by these two masked intruders disturbing the tranquility of persons on the yachts. It cost millions of dollars, because we sell peace, security, tranquility," he said.
He said he would write to German chancellor Angela Merkel to express his regret, and that additional security measures would be introduced on the island.