A nurse has been charged with the murder of three patients following their deaths at Stepping Hill Hospital in Greater Manchester in 2011.
Victorino Chua, 48, is accused of murdering patients Tracey Arden, 44, Arnold Lancaster, 71, and Alfred Derek Weaver, 83, by poisoning them with deliberately contaminated products at the hospital in Stockport.
Chua is also charged with 31 further offences against 25 other patients at the hospital, including 22 counts of attempted grievous bodily harm and eight counts of attempted poisoning.
Chua, who is originally from the Philippines, was arrested in January 2012, and later released on bail. He was remanded in custody and will appear at Manchester Magistrates' Court on Saturday.
A police investigation was launched into the deaths when staff at the hospital noticed low blood sugar levels in patients, and reports emerged that saline ampoules and bags had been contaminated with insulin.
Eighteen patients were found to have been deliberately poisoned by contaminated products. Eight later died, including William Dickson, 82, Linda McDonagh, 60, John Beeley, 73, Beryl Hope, 70, and Mary Cartwright, 89.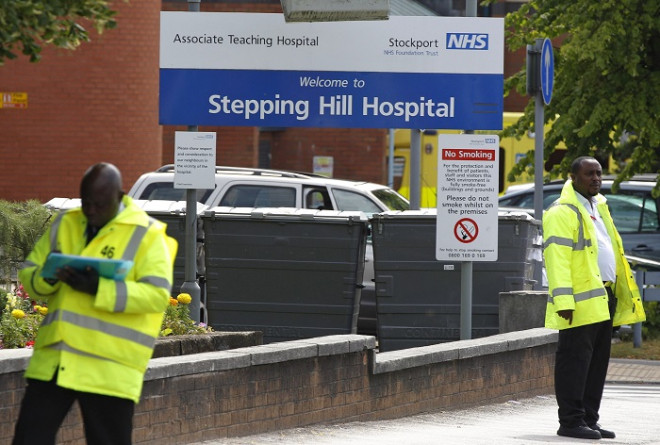 Steve Heywood, assistant chief constable of Greater Manchester Police, said: "Our thoughts continue to be with those people who were deliberately poisoned and their families.
"From day one, we made a commitment to those people, as well as to the wider community, to thoroughly and robustly investigate what occurred.
"In close to three years we have conducted many painstaking inquiries and engaged with numerous medical experts.
He added: "It is absolutely vital he is afforded the right to have a fair trial as outlined in Article 6 of the Human Rights Act."
In 2011, another nurse at Stepping Hill Hospital, Rebecca Leighton, was arrested and charged in connection with the poisonings. She was later cleared of all charges but lost her job at the hospital for stealing drugs.